Passive solar greenhouse construction guide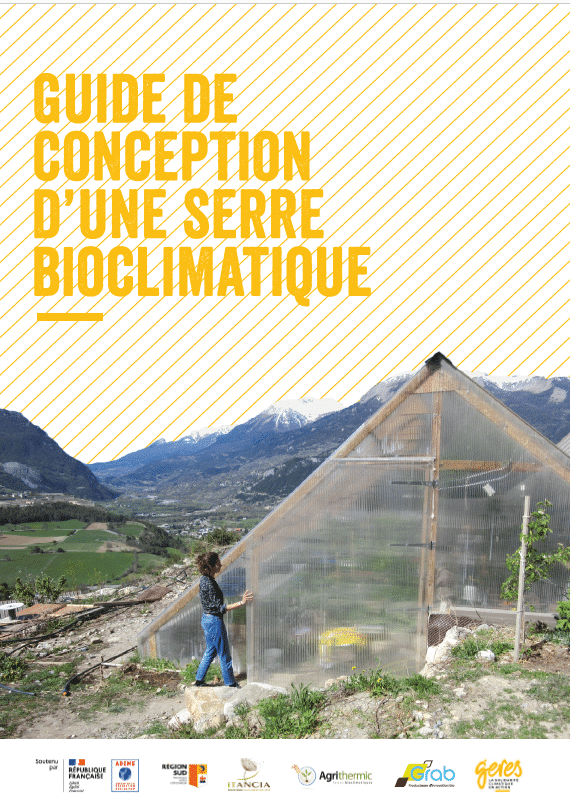 This guide has been produced to answer farmers' questions. It aims to help them both in the conception of their greenhouse and in its construction. To this end, it provides information on the different technical characteristics of each type of greenhouse and the materials used. It is based on feedback from the 7 bioclimatic greenhouses built as part of a pilot project conducted in the Provence-Alpes-Côte d'Azur region from 2016 to 2020 by Geres, Agrithermic and GRAB.
First of all, the advantages of a bioclimatic greenhouse and its operating principle are put forward. Then the feasibility study of the project is explained, with a decision support table comparing different types of bioclimatic greenhouse.
Then, the essential elements for the design of the greenhouse are presented, as well as indications and advice for the construction.
Finally, the 7 pilot bioclimatic greenhouses, established in Provence-Alpes Côte d'Azur under different climatic conditions, are described in the form of fact sheets.
The guide does not replace the advice of experts, notably for situations not described in this guide, but aims to provide initial elements of answers.
Are you interested? You can contact our projects manager Amélie Himpens at: a.himpens@geres.eu
Information
Author: Geres with Agrithermic and Grab
Year: 2020
Language: French
Feedback from the farmers