Passive Solar Greenhouses in Mongolia
Since 2010, Le Geres has been supporting the inhabitants of rural areas in Mongolia in the construction of bioclimatic greenhouses. Without the help of photovoltaic panels, these greenhouses use the light resource that is abundant in the country.
Context and challenges
In Mongolia, passive solar greenhouses start their first agricultural season with success.
Mongolia is a peculiar country. Far away from ocean, Mongolia extends upon vast steppes lined with imposing mountains, where an extreme continental climate is dictating the rules. Cold weather intensified by strong wind and very low precipitations are making this country an incredibly hostile land towards any human activities.
Agriculture has always been a huge technical challenge. Temperatures are extreme during winter and cold season lasts very long. During the coldest times, in January and February, average temperatures fluctuate between -20°C and -30°C (until -40°C). In order to compare, average temperatures in Leh for the same period are between -3°C and -14°C, with a minimum of -25°C. During more than six months, temperatures are not exceeding 0°C. For consequence, the growing season is very short : 100 to 150 days annually.
However, Mongolia is also the "Blue Sky Country" with more than 250 days of sunshine each year. This represents a great opportunity regarding passive solar techniques and more especially passive solar greenhouses (PSGH).
Mongolians' diet is little diversified and suffers from deficiencies. It is essentially based on meat and dairy products because of the old – nevertheless still very present – nomad-breeders tradition. Vegetables consumption is very low (1/4 of the WHO recommended quantity) and it is in fact essentially potatoes.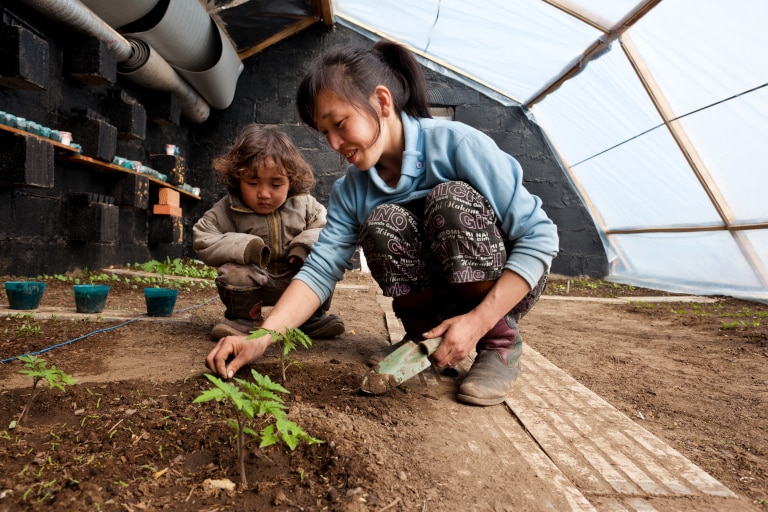 The Solar Passive Greenhouses project
The food security plan's objective (2010-2013) lead by the consortium Secours Catholique/Caritas Mongolia and Geres is to develop more efficient and diversified ways to grow vegetables at household level in order to reduce food insecurity which affects the most vulnerable families (1,000 families in Ulaanbaatar and in Gobi-Altai province).
Activities are intended to develop, implement and diffuse passive solar greenhouses (180 greenhouses and 75 nurseries), improved techniques of soil and water management and bioclimatic cellars (100 cellars).
Geres is bringing its technical expertise to the local partner during the first research and development phase on these 3 techniques.
New passive solar greenhouses designs have been developed for peri-urban areas of Ulaanbaatar.
In Autumn 2010, a Research and Display Center has been built in the middle of a yurt area. This Center counts 2 research greenhouses (with a more efficient design regarding thermal technology), a display family greenhouse designed to be diffused to beneficiaries and 2 nurseries.
In this early spring, greenhouses are starting their first full growing season. Thermal and agronomic performances tested since last autumn are revealing first results that meet our expectations.
Research greenhouses can be used from late February to early December. Growing season can be extended to 12 months for bulb vegetables which can spend the winter in soil with a revival in February. We have to keep in mind that atmospheric pollution in Ulaanbaatar reduce winter solar radiations.
Family greenhouses can be used from mid-March for direct hardy vegetables seedling (radish, lettuce, turnip, spinach). These cultivations have a good germination even with low soil temperatures (5/7°C) and can withstand light negative night temperatures.
Family greenhouses can be used from the 1st of April for sensitive vegetables/fruits transplantation (tomatoes, cucumber, sweet pepper). There is no more risk regarding night frost (felt can be used to protect plants in case of chill) and temperature becomes favourable to their growth (higher than 18°C). At this date, greenhouses generally used in Ulaanbaatar are frozen and start to be used from mid-May.
Spring is a critical period regarding food security ; thanks to these greenhouses, Ulaanbaatar families will be able to consume fresh and nutritive vegetables starting from mid-April (short-cycle vegetables : radish/lettuce).
Prospects
Thermal results will allow us to compare the different designs performances and suggest relevant optimizations. The main objective for 2011 as regards to agronomic experimentations is to suggest a new schedule for farmers, which will be adapted to this longer cultivation season, in order to make a better use of the opportunity offered by the passive solar greenhouses. Passive Solar Greenhouses represent a new technology in Mongolia and have aroused a big interest from Non-Governmental Organizations (NGOs) as well as governmental ones, since the project beginning. That shows promise for this resource's development in the country.
Partners
Technical partners

Arkhangai Herders Federation


AVSF – Agronomes et Vétérinaires Sans Frontière

Arkhangai Government


Food and Light Industry Government of Gobi-Altai province

Secours Catholique

Caritas Mongolia
Financial partners

European Union

DCI Monaco

Humus Endowment Fund

Synergie Dolaire Endowment Fund

WATCH THE PROJECT VIDEO
Passive Solare Greenhouses in Mongolia