15 May 2023
A look back at nine years of collaboration with the Nexans Foundation
On the occasion of the tenth anniversary of the Nexans Foundation, Geres was invited to testify on the last nine years of partnerships. A retrospective.
Congratulation to the Nexans Foundation for its ten years of existence, nine of which have been supporting Geres: this is no mean feat!
As a reminder, the Nexans Foundation's mission is to accompany and support solidarity initiatives throughout the world which particpate to the reduce fuel poverty and insecurity for the past ten years.
Energy poverty : a common cause
It's in 2014 that the adventure begins… This collaboration stems from a common cause : the fight against energy poverty in the world. And the main goal goal of Geres is to act on the ground to promote a fair and ambitious energy transition.
Nexans : a real support for Africa
In West Africa
Nexans has always actively supported our project in West Africa on access to electricity to develop the economy in rural areas, including the three pilot projects, which allowed the construction of the three first Green Business Areas (Konséguéla, Pep Koury and Kita) in Mali.
See article on access to sustainable energy for all in Mali.
This GBA have proven their eefectiveness and are currently being deployed.
Then, in 2022, they will join us in Togo, a new territoy for the Geres, to realised a diagnostic of energy needs and set up a pilot action around access to energy for the development of economic activity and capitalize on the Mali experience.
In North Africa
Moreover, they have also supported us in Morocco on energy transition projects, via the deployment of an energy-climate service , a training, information and awareness tool around energy and climate issues.
See the article on ChefChaouen, towards a model sustainable city.
On May 3, 2023, we had the joy of celebrating the tenth years of Nexans Foundation,and therefore of celebrating the associations that act on the ground, and especially GERES.
The partnership GERES/Nexans is one of the longest and most successful of the Foundation, with total alignement on a holistic approach to energy access for the disadvantaged population, combining the environmental imperative, the social impact and the sustainability of the proposed economic model. 
A perfect illustration of this is the project carried by GERES in Mali with the GBA's launch, a pilot project that has proved it's relevance, and which GERES is now deploying in new areas. 
It's all the issue of the Nexans Foundation, to accompagn innovative projects, novate, particulary in social and environemental impact, to make evoluate these acces energy models.
We have full confidence in GERES to keep innovate and to surprise us! Congratulations to all the GERES teams!
Climate solidarity in news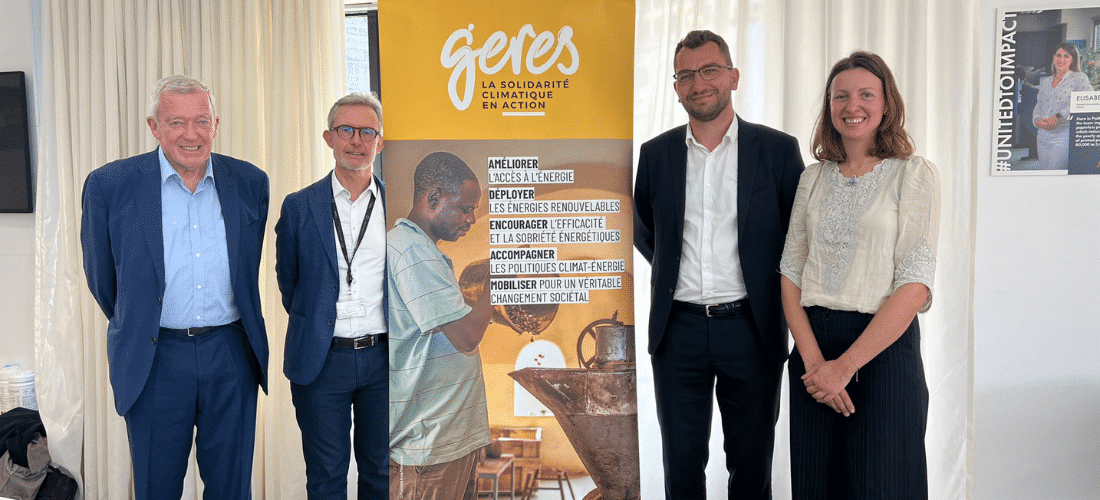 On the occasion of the tenth anniversary of the Nexans Foundation, Geres was invited to testify on the last nine years of ...
YOU WANT TO ACT IN FAVOR OF CLIMATE SOLIDARITY AND SUPPORT OUR ACTIONS?
Tell us who you are and find out what you can do
CITIZENS
Parce que la Solidarité climatique est l'affaire de toutes et tous, le Geres vous donne les clés pour passer à l'action.
PRIVATE SECTOR

En tant que dirigeant·e d'entreprise, employé·e ou client·e responsable, vous avez le pouvoir d'agir au quotidien.
LOCAL & INSTITUTIONALS ACTORS
Soutenez nos actions en France et à l'international et devenez un acteur de la Solidarité climatique.
FOUNDATIONS

En vous engageant aux côtés du Geres, vous contribuez à la mise en œuvre d'actions innovantes et concrètes.