How to build an energy efficient house in Tajikistan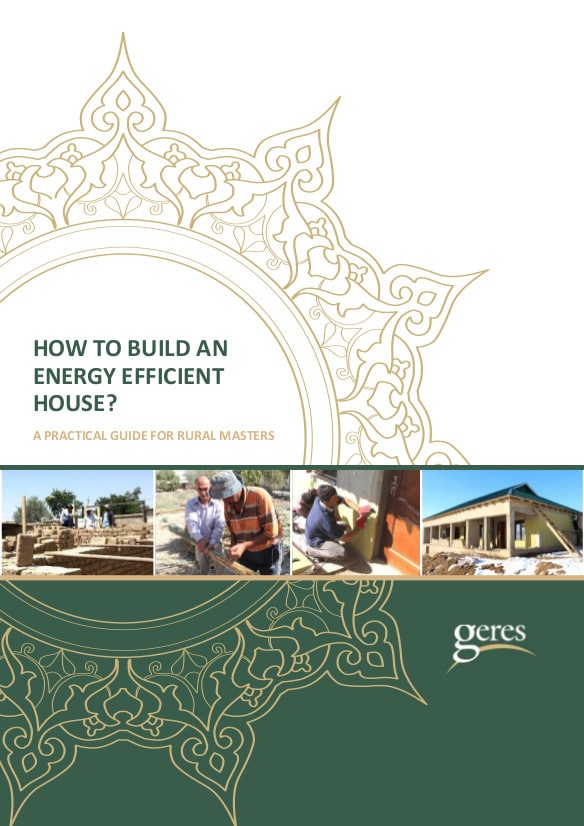 A practical guide for rural masters in Tajikistan
This practical guide has been conceived in the frame of the "Pilot Initiatives for Green Homes in Tajikistan" implemented by GERES in partnership with the Scientific Research Institute of the Committee for Construction and Architecture of the Republic of Tajikistan.
Its purpose is to give generic guidelines to design and build energy-efficient individual houses in rural areas of Tajikistan (except high mountain areas). The solutions and models proposed in this manual are the results of the work of an international team composed of architects, civil engineers, energy specialists, local masters and craftsmen. They are mainly based on the collaboration with local communities of the districts of Rudaki and Hissar, in the Region of Republican Subordination of the Republic of Tajikistan.
The techniques and solutions proposed in this guide aim at improving the energy performance and the thermal comfort of the house in winter and summer, while ensuring the sustainability of the building and construction costs as low as possible.
Every house has specific needs which may require other techniques and solutions, therefore advice and supervision from an engineer, an architect or an experienced mason is highly recommended to ensure the building's performance and integrity.
Information
Edition: Geres
Author: M. Pochoev, F. Bazarov, A. Blondeau, C. Janner
Year: 2016
Language: English, Russian, Tajik
Pages: 70