Climate change vulnerability and risks assessment of the Arkhangai province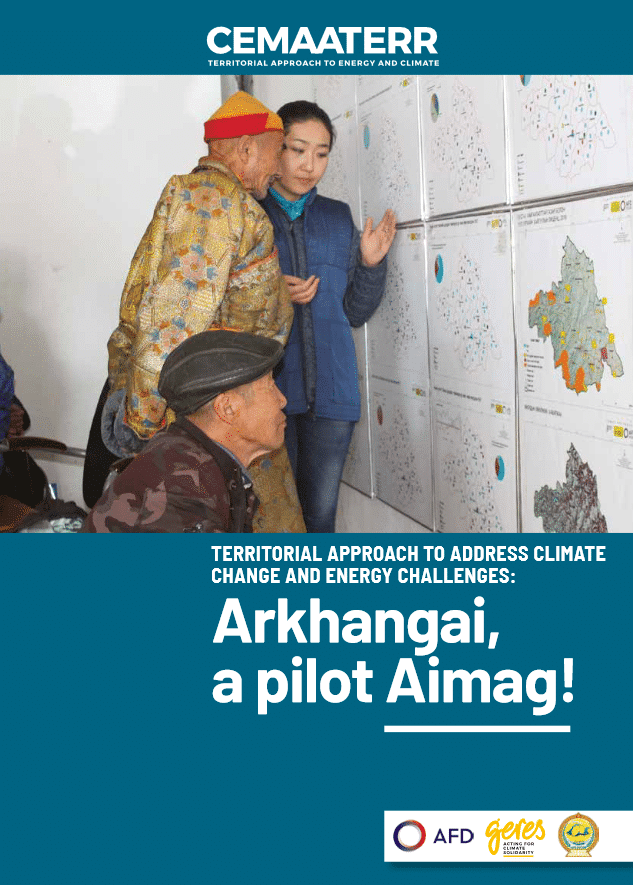 Results
CEMAATERR-I (2017-2019), implemented by Geres Mongolia in Arkhangai aimag in Mongolia, was the territorial approach to address climate change and energy challenges. The project has environmental and social impacts and CEMAATERR-I provided support to local decision makers considering climate changes effects when establishing development plans and held climate change awareness raising activities with 2500 people. In accordance, 110m²  energy efficient building for the domestic violence victims and 2 passive solar greenhouses in Arkhangai, were built, respectively.  This pamphlet shows the detailed impacts the project has brought to Arkhangai and its government and people.
Community-based climate vulnerability risk assessment of Arkhangai
CEMAATERR's assessment report was conducted among community and public to assess climate change in their words and describe it through their experiences. And Arkhangai aimag, where the study was held, appears to be immensely vulnerable to climate change, especially as far as the community is concerned. Have a look at the report to know more about how the community has seen the climate change in their eyes!
Arkhangai climate change vulnerability atlas
This atlas is collection of maps that are made in accordance with the descriptions and conversations conducted with community about the climate change and its vulnerability risk assessment in their region. This atlas is a visual translation of the community's concerned conversations about the climate change in Arkhangai.
Information
Authors: Geres Mongolia, Geres expertise

Year: 2019
Language: English, Mongolian