16 July 2018
Women committed to sustainable energy in Myanmar
In its work in Myanmar, Geres can count on the involvement and unfailing determination of Burmese women. We paint you a picture of two women committed to sustainable energy: one of them training to produce improved stoves and the other helping stove producers with quality control.
Energy in the heart of the Dry Zone in Myanmar
Energy access is a sustainable development challenge in what is known as the dry zone of Myanmar.
Every year, 2% of the forest is lost and the causes of that phenomenon include the use of wood as the main source of energy.
Savings of 25-40% of wood can be achieved through the use of the new improved stoves developed and distributed by Geres. This means sparing 750 kg of wood and avoiding the emission of 1.3 tonnes of CO2 per household per year. Although these sustainable energy solutions are very attractive to Burmese households, inhabitants of the most isolated areas still struggle to access them. Geres is therefore continuing its efforts to roll out these efficient solutions, tailored to meet the local people's specific needs.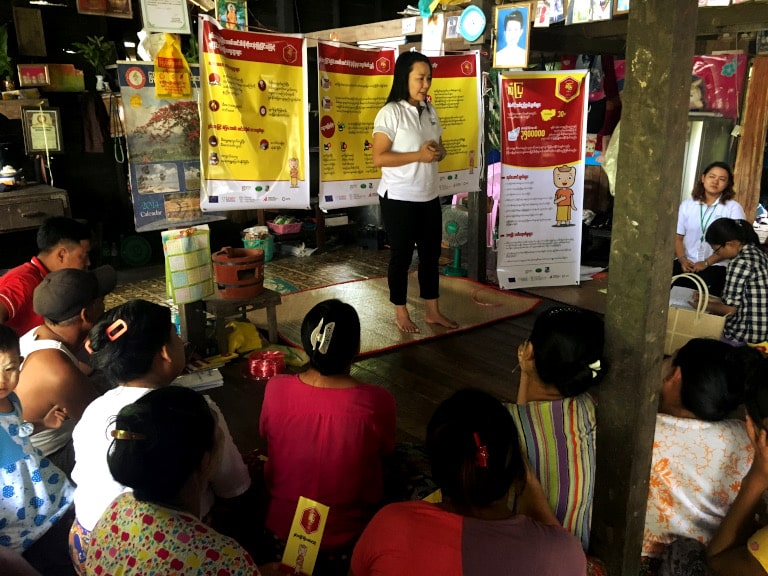 Portrait of two women involved in the production chain of improved stoves
27-year-old Ms. Linn Linn Myat lived in Naypyidaw, the Burmese capital, before joining Geres team in 2014. To begin with, she knew very little about how development organizations work. Thanks to the training provided by Geres, she now helps partner producers with quality control of their stoves. Her aim is to obtain a label evidencing compliance with quality standards. Surrounded by experienced colleagues, Ms Linn has been able to develop considerable communication skills over a period of two years, enabling her to establish links with the partner producers, along with accounting skills. Her journey is the result of Geres commitment to build local capacity. Training and developing the skills of local operators and employees is a strong development lever, a guarantee that the impacts will continue to be felt in the sector.
47-year-old Ms Khin Khin Gyi has been involved in producing improved stoves since 1995. A native of part of the dry zone known for its rice, groundnut and vegetable crops, she decided to become a potter at the age of 25 following a flood which deprived her farming family of their income. She then grasped a training opportunity to learn how to produce stoves. She subsequently chose to receive training from Geres to improve the quality of her production. Since then, feedback from retailers on the degree of finishing, the better quality grates and the beauty of her stoves has given her great encouragement. Like her, more than 60 producers, including 40 women, have been trained as part of Geres work to support this sustainable sector in Myanmar. As Ms Khin Khin Gyi now wishes to increase her production capacity and become a leader in distribution of the stoves, she needs experts to help her expand her business, manage her workflow and introduce more mechanized equipment. With support from its partner ENERGIA, Geres has worked to reduce the arduousness of the work, purchasing clay mixers to encourage women's involvement in the production process.
As close as possible to inhabitants and their needs
This year, a participatory exercise involving households from the region and 15 key community players was able to identify two unmet priority needs in the area: domestic electricity and efficient cooking technology. In view of this, the range of low-energy solutions developed as part of Geres work will be expanded to solar lamps and kits as well as other products suited to the local people's needs. Similarly, an efficient alternative distribution network, known as last kilometre, will be developed so that these sustainable energy solutions can reach the most remote households. We shall shortly be launching this new stage and there are still many challenges to face.
Don't hesitate to ask us for more information on this project for which new partnerships still need to be arranged.