Dissemination of community cellars for the storage of vegetables
Until 2012, Geres conducted a programme in Afghanistan to improve food conservation through the installation of bioclimatic storage cellars.
Context and challenges
In Afghanistan, the mountain regions are cold deserts where temperatures frequently fall below -10°C in winter.  The isolation of communities in these regions and the absence of reliable energy sources mean that the sale of farm produce is hindered by technical and economic constraints.  In addition, the lack of efficient storage facilities leads most producers to sell their harvests directly from the field at a lower price than they could obtain in winter when demand is higher.  Moreover, they suffer considerable losses due to frost in the winter season.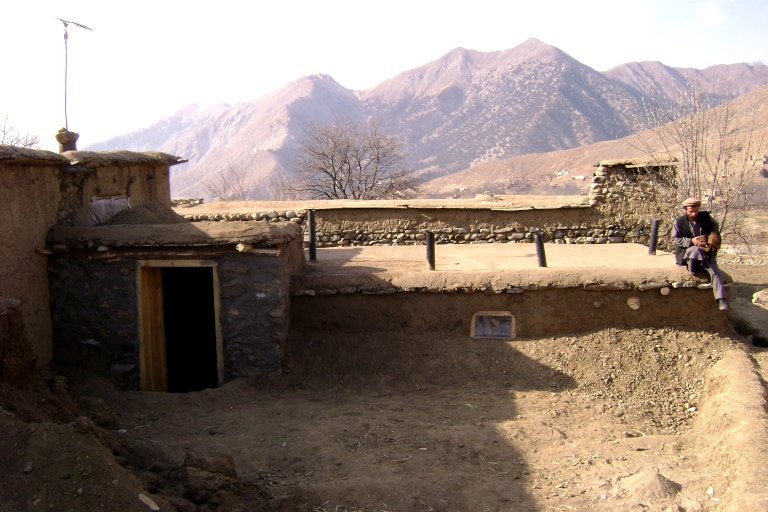 Objectives and solutions
With this in mind, Geres launched a programme in 2003 designed to improve food preservation by installing bioclimatic storage facilities.
Statistics show that producers with inadequate equipment lose 80% of their stored crops. The pilot-project to disseminate bioclimatic storerooms has demonstrated its value as the proposed equipment and methods can completely eliminate losses of potatoes and apples. Beneficiary families have also been able to generate new income through the selling, which benefit from a capital gain in winter. A kilo of potatoes selling for $0.20 at harvest time could be sold for more than $0.40 at the height of winter.
Partners
Financial partner
French Development Agency (AFD)
Technical partner
Afghan Ministry of Agriculture