Energy efficiency for improved living conditions in Tajikistan
Affordable energy saving solutions based on passive solar and bioclimatic architecture.
Context and challenges
In Tajikistan, 29% of households live below the poverty line (1.9 USD/day) and the majority of them relies on remittances (49% of the GDP). Long and cold winters generate strong needs in energy for heating: 80% of the energy consumed by houses is for heating.
Limited access to fuel and changes in lifestyle combined with low energy performance of buildings and poor quality of equipment contribute to high energy vulnerability for households: during the heating season families spend from 14% to 25% of their monthly budget on energy while the most vulnerable ones cannot afford heating.
However, affordable energy-saving solutions based on passive solar and bioclimatic architecture do exist. Combined with eco-friendly practices, they can contribute to improving thermal comfort and tackling energy poverty by allowing up to 50% of energy savings. They could also contribute to a reduction in air pollution, deforestation, CO2 emissions, as well a heating chores usually accruing to women.
These solutions can trigger economic development and job creation for local entrepreneurs, by stimulating the demand for renovation and construction.
In 80% of the cases self-builders and future homeowners use the services of local masters and entrepreneurs for the construction of their house. All of them need trainings or advice to learn and master energy efficiency technics.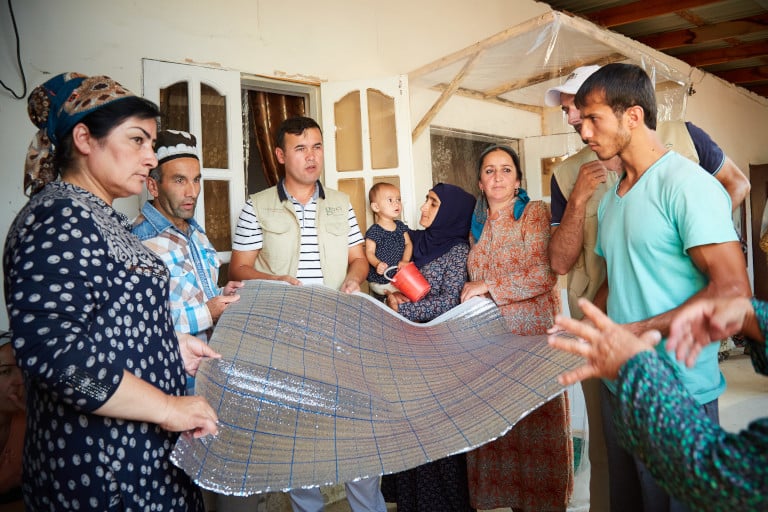 Objectives and solutions
The reduction of energy poverty has been the main focus of Geres since 2011. Our actions focus on the construction and renovation of rural and urban individual houses by supporting individuals and building capacities of professionals.
In partnership with the Abbé Pierre Foundation and Agence Francaise de Developpement, Geres is working with families and artisans towards the improvement of their housing conditions in Vahdat, Fayzabad, Hisor and Rudaki The Pilot Initiatives for Green Homes in Tajikistan (PIGHOT) project consists of two phases, during which these three main components are being implemented.
The Energy Information Center (in Dushanbe) provides free advice, information and education on energy efficiency and renewable energies. The objective is to help households reduce their energy bills while increasing thermal comfort (December 2015 – June 2018).
Promotion of a Green Home building sector through the development of Low-energy consumption house designs, training of professionals and awareness raising among future homeowners in Fayzabad, Vahdat, Hisor and Rudaki.
Capitalization and sharing of the experiences at national, regional and academic levels with stakeholders involved in energy and housing sectors.
Beneficiaries
450 households from house construction and renovations

100 artisans/craftsmen involved in construction

3000 people through energy information sessions
 Video
Partners
Financial partners
AFD – French Development Agency
Abbé Pierre Foundation
Technical partners
SUE SRICA: Scientific Research Institute for Construction and Architecture
Tajik Technical University
Local Governments of Fayzabad, Vahdat, Hisor and Rudaki and their Designers Institutes
Micro-Finance Institutions (First Micro-Finance Bank and Arvand)