Improving the energy efficiency of school buildings in Midelt Province
The project to improve the energy efficiency of school buildings in Midelt province comes under the CEMAATERR programme, which aims to help reduce the carbon footprint and boost climate resilience in the rural territories and relay towns of Asia, West Africa and the Mediterranean.
Background and issues
Midelt is a mainly rural province located at an altitude of more than 1500 m in the Middle Atlas mountain range in Morocco, where winters are harsh and snowfalls frequent despite the Mediterranean climate. Buildings are very often not designed to ensure thermal comfort.
A study conducted by Geres in 2018 on heating and thermal comfort conditions in schools in the province revealed the need for work on the energy efficiency of these public educational buildings (thermal insulation, bioclimatic techniques, etc.) to improve pupils' learning environment.
4°C is the lowest temperature recorded on winter mornings in the classrooms of schools in Midelt
The state of these schools is a drain on the budgets of the institutions as well as the parents, who sometimes offer some of their meagre resources to help purchase fuel to heat these thermal sieves.
Geres has been working in Morocco since the 1980s on projects relating to sustainable biomass energy management and, more widely, on energy demand management, supporting communities, businesses and territories in their energy transition. Another component will therefore now be added to Geres programme in Morocco, focusing on the problems of energy efficiency in buildings in mountain areas.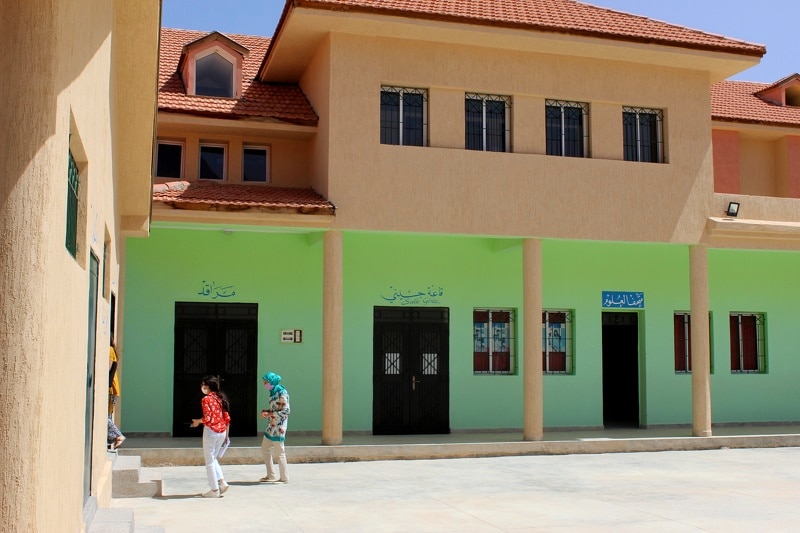 Objectives and proposed solutions

To help reduce the carbon footprint and boost the climate resilience of Midelt province, the CEMAATERR project focuses on two complementary areas:
Raising the awareness of territorial stakeholders (public authorities, associations, citizens, etc.), building local institutions' territorial energy and climate planning capacity and helping building sector professionals to develop energy efficiency solutions.
Pilot initiatives in schools (construction and/or renovation), demonstrating the feasibility and relevance of boosting energy efficiency in public buildings to improve living conditions for pupils and staff and generate savings for the institutions as well as economic opportunities, while reducing greenhouse gas emissions.
Beneficiaries
150 schoolchildren and teaching staff enjoy greater thermal comfort
30 elected representatives and institutions' technical staff, along with seven local associations, have enhanced capacity to tackle energy and climate issues
600 schoolchildren, teachers and parents are more aware of energy and climate issues
5 SMEs, artisans and/or entrepreneurs receive support in structuring a package of sustainable energy services
Technical and financial partners
French Development Agency
Engie Foundation
Eurofins Foundation
Provincial Education Department
Midelt Provincial Council
Rabat National School of Architecture
Jbel Ayachi Association for cultural, social, economic and environmental development
ALTO ingénierie