Improving the traditional process of palm sugar production in Cambodia
Reducing the energy demand of small-scale producers for an optimized production with a low environmental cost
Context and challenges
In developing countries, household-scale industrial activities represent an invaluable source of money and local jobs. In rural areas of Cambodia, food processing is the second largest income-generating activity after farming, and contributes to both poverty alleviation and food security of local communities. At the same time, these activities involve the combustion of significant quantities of wood fuels, often inefficiently.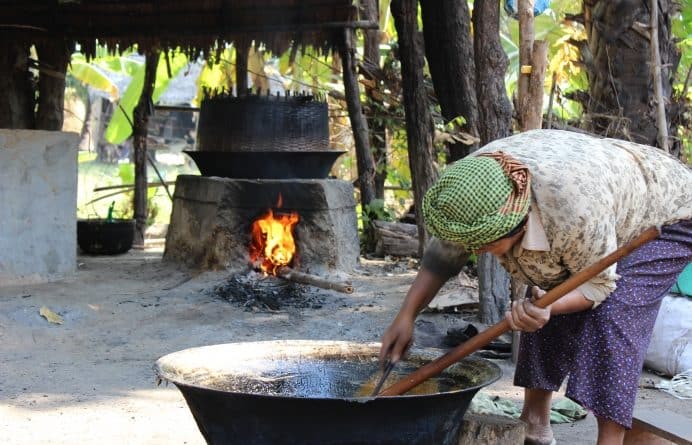 Objectives and solutions
Geres raises awareness among local palm sugar producers on alternative cooking solutions for their activities, and offers technical assistance in adopting, building and operating more efficient stoves, which allow producers to save up to 30% of firewood, while improving the quality of their end-product.
Geres also developed a brand for this quality, environment-friendly sugar, to offer to palm sugar producers a higher market accessibility and a guaranteed premium buying price. Sovannak Palm Sugar is now operating as a viable social enterprise.
From objectives to actions
Geres, through the involvement and training of local stove manufacturers and installers, provides an improved palm sap cooking technology.
Local palm sugar producers process the sap into high quality granulated palm sugar following strict quality requirements regarding hygiene and traceability. They save money on fuel, increase their sales price and reduce the environmental burden of their activity.
Sovannak Palm Sugar Enterprise offers a premium, guaranteed price to palm sugar producers, and distributes the end product both locally and abroad.
From actions to impacts
2,4 tons CO2 equivalent saved per ton of sugar produced
54 tons of sugar provuced using GERES improved solutions up to 2013
Project partners
Financial partners

Planète Bois
Improved Cookstove Producers & Distributors Association of Cambodia (ICoProDAC)
ETC Energy
World Bank/ ESMAP programme
Ensemble Foundation
Sovannak Palm Sugar Enterprise
Kampong Speu Palm Sugar Association
Forestry Administration of Cambodia
UNDP – GEF
Ministry of Mines and Energy (MME)
Alstom
Technical partners
Improved Cookstove Producers & Distributors Association of Cambodia (ICoProDAC)
Sovannak Palm Sugar Enterprise
Administration Forestière du Cambodge
Association des producteurs de sucre de palme de Kampong Speu