Sustainable forest resource use in the Cardamom mountains in Cambodia
The project to develop sustainable, legal and traceable woodfuels value chains in Cambodia comes under the CEMAATERR programme, which aims to help reduce the carbon footprint and boost climate resilience in the rural territories and "relay towns" of Asia, West Africa and the Mediterranean.
Context and challenges
Over the past 30 years, forest ecosystems have been degraded at an unprecedented rate in Cambodia. Wood from the natural forest supplies growing demand for both the country's households and industries for energy and timber. Illegal logging in natural forests and protected areas also contributes to deforestation and landscape degradation, without providing income or acceptable working conditions for local communities.
The Cardamom Mountains are one of South-East Asia's largest remaining rainforests and is essential to the lives of millions of Cambodians. The «buffer zones» at the foot of the mountain range, found in the provinces of Kampong Chhnang and Pursat, play a key role in providing natural protection against forest degradation and climate risks.
Communities in this region are leading the fight against deforestation and forest degradation through community forests and community protected areas. However, they often lack the finance and technical expertise to manage forests and restore degraded lands.
Established in Cambodia since 1994, Geres supports the development of a sustainable, legal and profitable woodfuels value chains and the reduction of wood fuel consumption.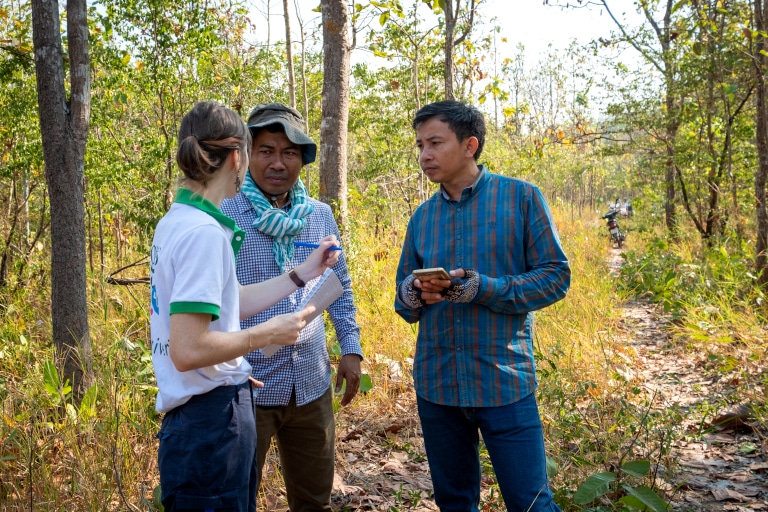 Project history and new objectives
From 2016 to 2019 Geres implemented the multi-donor funded SEFED project, aiming to support the emergence of sustainable supply chains in the domestic energy sector and CEMAATERRI aiming to preserve natural resources in the Cardamom Mountains through forest restoration and local economic development. This work led, among other things, to the incubation of an innovative Kjuongo business model for sustainable charcoal supply chain involving local communities. Such model was conceived as a new business concept to deliver high quality certified sustainable charcoal at a competitive price to reduce greenhouse gas emissions linked with the use of non-renewable wood fuels.
The engine of the business concept has consisted in a digital-based logistics and sales platform, which borrows its core business model from other digitalized companies like Uber and Amazon Marketplace. Building on this experience, since September 2019 Geres and its partners has implemented the Kjuongo/CEMAATERRII project to test, validate and scale up this business model.
Previous activities enabled the local communities to restore 18 hectares of forest cover and to preserve 3502 hectares of forest. 225 community members have been trained in sustainable forest management and plantation best practices. Besides, revenues have increase for 173 people (9,300 US dollars generated).
The project continues today with three axes to help improve local living conditions, preserve forests reduce greenhouse gases and increase resilience to climate change:
Support to local communities for the restoration, management and sustainable development of 3,600 hectares of forest
Development of a sustainable, traceable and legal charcoal value chain, working with local communities and charcoal producers. Khmer Green Charcoal (KGC), a social enterprise manages distribution and sales.
Building the capacity of communities, local authorities and government agencies on forestry and energy planning
Technical partners 
Khmer Green Charcoal

Cambodian Ministry of Agriculture, Forestry and Fisheries

Cambodian Ministry of the Environment

United Nations Development Programme (UNDP)

UNEP-DTU Partnership