KjuonGo, a digital revolution for sustainable woodfuels in Cambodia
This project, which was initiated in 2016 and started in 2019, aims to reduce greenhouse gas emissions, improve resilience to climate change, support the integration of climate-energy issues into operational policies and enable forest communities to benefit from a sustainably managed resource.
Context and challenges
In Cambodia, 77% of fuelwood is considered non-sustainable and 40,000 ha-equivalent of deciduous forest is destroyed annually, cutting 3.5 million tons of wood for the production of unsustainable charcoal and supporting a USD100 million illegal market.
Phnom Penh consumes 1/3 of the total charcoal production (~100,000t./year), with a supply mainly coming from the Phnom Aural Wildlife Sanctuary and the Central Cardamoms Protected Area, where rural communities become increasingly vulnerable to climate change due to the degradation of their ecosystem.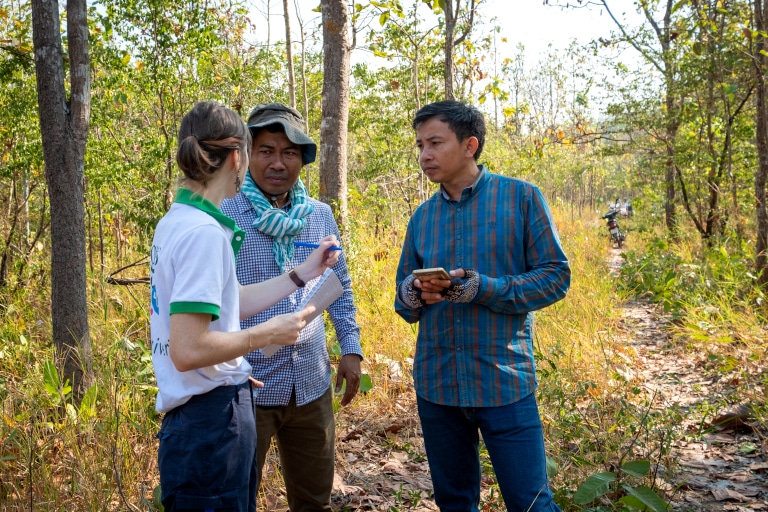 Objectives and solutions
From 2016 to 2019 Geres implemented the multi-donor funded SEFED project, aiming to support the emergence of sustainable supply chains in the domestic energy sector. This work led, among other things, to the incubation of an innovative Kjuongo business model for sustainable charcoal supply chain.
Such model was conceived as a new business concept to deliver high quality certified sustainable charcoal at a competitive price to reduce GHG emissions linked with the use of non-renewable wood fuels.
The engine of the business concept consists in a digital-based logistics and sales platform, which borrows its core business model from other digitalized companies like Uber and Amazon Marketplace. Building on this experience, since September 2019 Geres has implemented the Kjuongo project to test, validate and scale up this business model. Funded by the Nordic Climate Facility (NCF) and in collaboration with the UNEP DTU Partnership (DPU) and the local social enterprise Khmer Green Charcoal (KGC), the "Kjuongo project" has the following objectives:
Structuring a legal and traceable charcoal supply chain by supporting the engagement of Community Forests (CFs) and local charcoal producers in high quality sustainable charcoal production, in line with international standards. Geres, therefore, supports local actors to obtain the necessary registrations and permits to operate before the Forest Administration of Cambodia and provides technical capacity building for wood-fuel harvesting and charcoal production.
Strengthening Kjuongo's business model and demonstrating the technical, economic and institutional sustainability of its operations as far as charcoal production, distribution and sale is concerned. The project consolidates Kjuongo's internal procedures and designs value-proposal for each market segment (CFs, charcoal producers and retailers).
Facilitating external investments, e.g. in sustainably managed plantations to scale up the model, by defining a tailored financial and benefit-sharing strategy.
Raising awareness on and mainstreaming the benefits climate resilience practices across the involved communities.
Partners 
Technical partners
UNEP DTU Partnership (DPU)

Khmer Green Charcoal (KGC)

Forest Administration of the Royal Government of Cambodia
 Funding partners

Nordic Climate Facility (NCF)