17 January 2019
Bioclimatism, a Climate Solidarity lever
Bioclimatic techniques can be adapted to both hot and cold contexts. We presently work mainly in cold regions where the need for people to keep warm and feed themselves is critical.
What is bioclimatic construction?
Bioclimatic construction consists of smart design of buildings, adapting them to their environment (local climate and geography). The intention is to obtain the desired thermal comfort and optimize energy consumption as naturally as possible. To do this, we work on different aspects: improving insulation and ventilation of buildings, incorporating the free energy input provided by the sun, improving the heating and hot water system in housing, encouraging the use of bio-sourced materials of local origin and, in new constructions, carefully thinking out the siting and orientation of the building.
Solutions appropriate for extreme climates
Bioclimatic techniques can be adapted to both cold and hot contexts. We presently work mainly in cold regions where the need to keep warm is critical.
The extreme mainland climate of Central Asia, together with its high levels of sunshine, is actually conducive to the development of bioclimatic solutions to tackle socio-economic and environmental problems. In these countries, Geres is helping the housing sector to train building professionals in bioclimatic techniques and provide support for private individuals. In Tajikistan, we have developed models of energy-efficient and energy-saving houses adapted to local needs and customs which we intend to replicate across the country
In Central Asia and the Maghreb, we also encourage the establishment of information points to advise the population on economical, eco-friendly solutions suited to their environment and their needs. We also help the public authorities to manage and reduce energy consumption in public buildings. In Mongolia, Geres provides its expertise in connection with the construction of a shelter for victims of domestic abuse, which ensures decent, optimum installation conditions taking account of the particularly harsh regulatory, security, meteorological and climatic constraints (temperatures as low as -40°C).
In Mali, with its dry tropical climate (up to +50°C), the Green Business Areas are designed to ensure better regulation of indoor temperatures for greater thermal comfort and improve the insulation of electrical appliances which are very heat-sensitive. Using this construction technique brought to us by Voûte Nubienne, it is now possible to find computer rooms, radios and restaurants and keep cool right out in the bush.
Finally, we have developed models of passive solar greenhouses [1] for the vegetable production sector. In Mongolia, the aim is to lengthen agricultural growing seasons and diversify vegetable production to ensure a more balanced diet.. Mongolian vegetable producers have seen their production season in bioclimatic greenhouses increase from 3 to 8 months thanks to the sun alone.
FDrawing on this success, we have imported and adapted this technology to the French context. In the PACA region bioclimatic greenhouses provide an answer to the problems of small farmers keen to adopt agro-ecological principles and find a viable economic model. A producer working at an altitude of 1100 m can now produce tomatoes with no input of mechanical energy as of the month of April instead of June.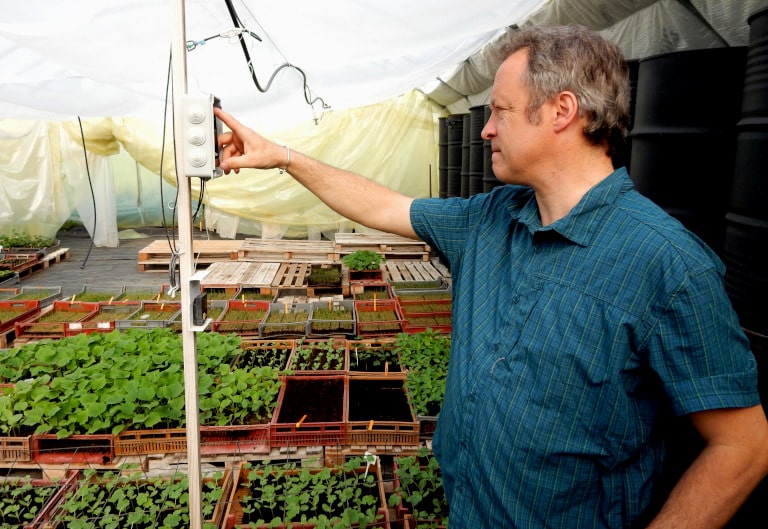 A response to economic, environmental and health issues
In developing countries, bioclimatic techniques offer a response to various problems. This low-energy solution makes it possible to reduce spending on heating because it gives access to free solar energy. In rural areas of Afghanistan, Tajikistan and Mongolia, where Geres is actively involved, the population has few means to meet essential needs.
By using local, relatively cheap materials, the proposed renovations remain affordable, with households receiving various forms of support to cover the initial investment, such as micro-credit, payment facilities, subsidies for artisans, etc.
In parallel, the development of this sector leads to the creation of new skilled jobs, both in construction and in vegetable production through the development of bioclimatic greenhouses.
These solutions also tackle environmental issues because reducing energy demand relieves pressure on natural resources used as fuel for heating. By heating less, emissions are also lowered. A monitoring system serves to compare the quantity of fuel used before and after the renovation work.
Finally, these bioclimatic solutions provide a response to health issues, by reducing the harmful smoke arising from combustion and improving thermal comfort. The risks of respiratory diseases are consequently lower, children and adults suffer less from the cold and all quality-of-life indicators are improved.
In the case of passive solar greenhouses, diversifying vegetable production helps to combat diseases related to nutritional deficiencies.
Expertise in bioclimatism
With its 40 years' field experience, Geres has developed genuine expertise in bioclimatic techniques. Although these energy solutions were historically adapted in response to the economic and climate context of the Central Asia region, they can now be applied in various Geres projects in all our operational areas.
These Climate Solidarity efforts are supported by many private and public partners. If you too wish to contribute to the rollout of these bioclimatic solutions, don't hesitate to get in touch with our team.
Ces actions de Solidarité climatique sont soutenues par de nombreux partenaires privés et publics. Si vous aussi vous souhaitez contribuer à la diffusion de ces solutions bioclimatiques, n'hésitez pas à contacter notre équipe.
To go further

Get more information on current activities:
This article summarizes the information gathered during an interview conducted by Léa Watine, partnership officer, with Marc Glass, "Energy and housing" projects officer for Geres.
[1] Bioclimatic techniques seek to draw maximum benefit from the sun when the weather is cold and, conversely, to protect against it when the weather is hot. This explains why the term "solar" or "passive" architecture is also used.