Dissemination of domestic efficient cookstoves in Cambodia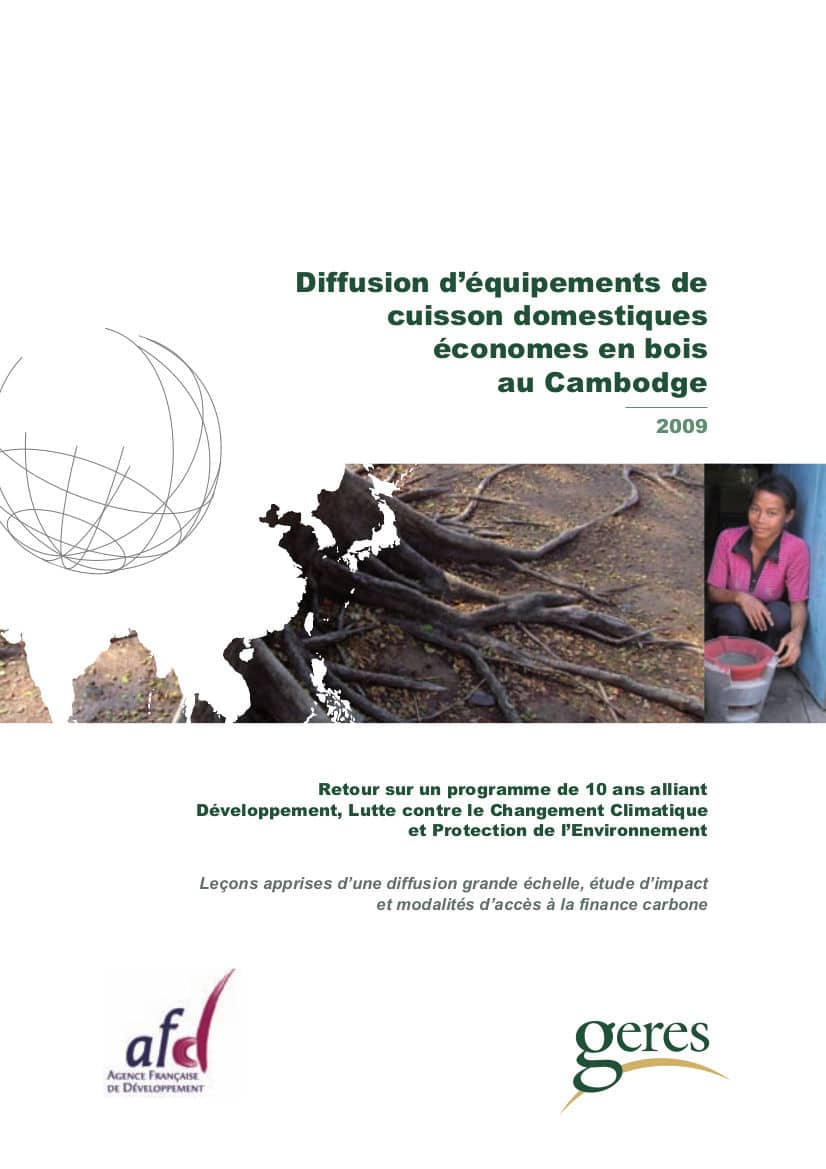 Looking back on a 10-year programme combining development, fight against climate change and environmental protection. Lessons learned from a large-scale dissemination, impact assessment and terms of access to carbon finance.
Almost half of humanity uses biomass on a daily basis for its domestic needs, whether in the form of animal matter, agricultural residues, green waste, wood or wood derivatives. It is used for essential needs like cooking, heating, etc.
The experience of Geres in Cambodia, which began more than 10 years ago in 1996, has resulted in nationwide dissemination of an efficient, low-cost domestic cooking stove, known as the New Lao Stove (NLS). Nowadays, around 25,000 NLSs are sold every month. A particular feature of this programme, which saves on so-called non-renewable biomass, is its access to carbon finance. It has also helped to strengthen and structure a cooking stove supply chain and validate standardized cooking equipment.
This document, we therefore look back on the experience with the aim of:
Sharing innovative methodological tools in the field of biomass energy that have been validated
Making a quantitative and/or qualitative evaluation of the socio-economic and health impacts of disseminating efficient cooking stoves in Cambodia
Reviewing the programme's links with international mechanisms to combat climate change
It is meant for all stakeholders involved with Energy-Development-Climate issues: policymakers in the South and North, international bodies (donors, UN agencies, etc.), international solidarity organizations, training and/or research institutes, resource centres, networks and, finally, carbon market operators.
Contents
Cookstove in South Countries and lessons learned
The socio-economicand sanitary impacts of disseminating the New Lao Stove
Carbon finance: a new funding stream
Information
Edition: Geres
Author: S. Bryan, V. Vorn, J-F Rozis, Y.I. Baskoro, G. Madon, M. Brutinel
Year: 2009
Languages: French, English
Pages: 68
Diffusion d'équipements de cuisson domestiques économes en bois au Cambodge (French)