27 November 2020
Earth construction techniques are being revived in the housing sector in Ulaanbaatar
As part of our program to renovate fragile housing in the outskirts of the Mongolian capital, the NGO PADEM and Healthy Life Organization revived earth construction techniques during a workshop. This ancestral practice turns out to be rather sustainable and has sparked renewed interest among the local artisans.
This earth construction techniques, once used in Buddhist monastery buildings, continue to prove efficent today. This approach appear to be more affordable, sustainable and easily adaptable in the poor outskirts of the Mongolian capital which has a dense population concentration. The new, very impoverished residential districts where Geres operates count 60% of the population of Ulaanbaatar.
Read: Energy renovation of fragile housing in urban areas of Ulaanbaatar
This year, during a training workshop organized by the NGO HLO with the participation of the Mongolian Women's Fund, Parents-Teachers Association Mongolia and the Mongolian National Federation of the Blind, 30 people from these residential district, including 2 craftsmen from Geres' energy renovation program, took part in the experience.
What is earth construction?
These techniques are based on compressed earthen bricks and clay walls. Brick is a building material made mainly from a humid mixture of sand, clay and cement compressed by hand at high pressure to form blocks.
Clay walls, on the other hand, can generally be used to build a solid wood frame. The frame is then filled with a layer of damp earth, usually consisting of sand, gravel, clay and cement.
"Mongolian monastery buildings have withstood the harsh climate for centuries (…). Traditional construction techniques updated with today's modern knowledge have proven to be the best solution from an environmental and social point of view in the projects implemented by Geres in Morocco and Tajikistan. We therefore wanted to test these technologies in Mongolia" said Beatriz Maroto Izquierdo, Geres' representative in Mongolia.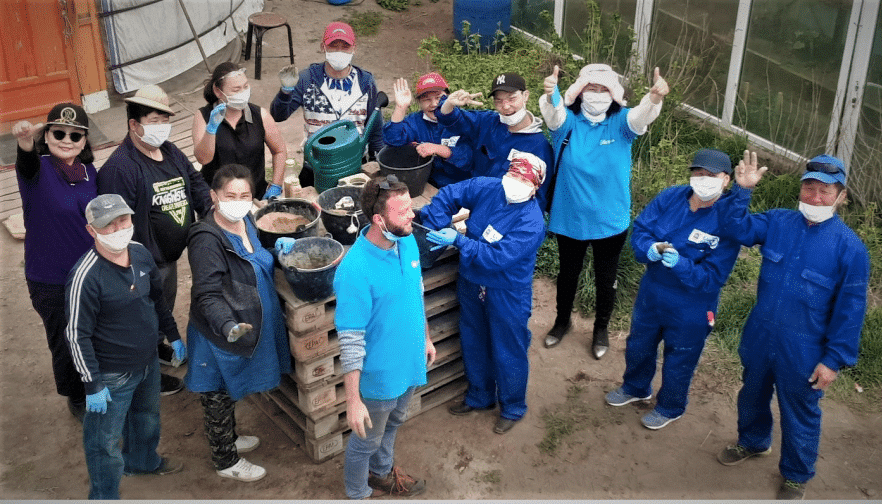 © Mongolian News Agency, Munkhzul A.
An encouraging experience for improving energy efficiency in Ulaanbaatar
84% of the participants were very satisfied with the training provided. Some of the artisans even said they would consider integrating the production of compressed clay bricks in their work,
At the end of the workshop, participants also expressed the need to extend the training to more people, to involve more young people and to communicate the activities on a larger scale.
Sukh-Ochir Sodnompuntsag, who was one of the active participants, expressed great enthusiasm for the training. He would like to continue practicing earth construction techniques and open a small business.
In the end, the general satisfaction of the participants proves that earth construction techniques should be revived and more widely used in the housing sector in Mongolia.
Mongolia, a country which already used these techniques in the past, seems to be on the right track to adopt them again.
To be continued!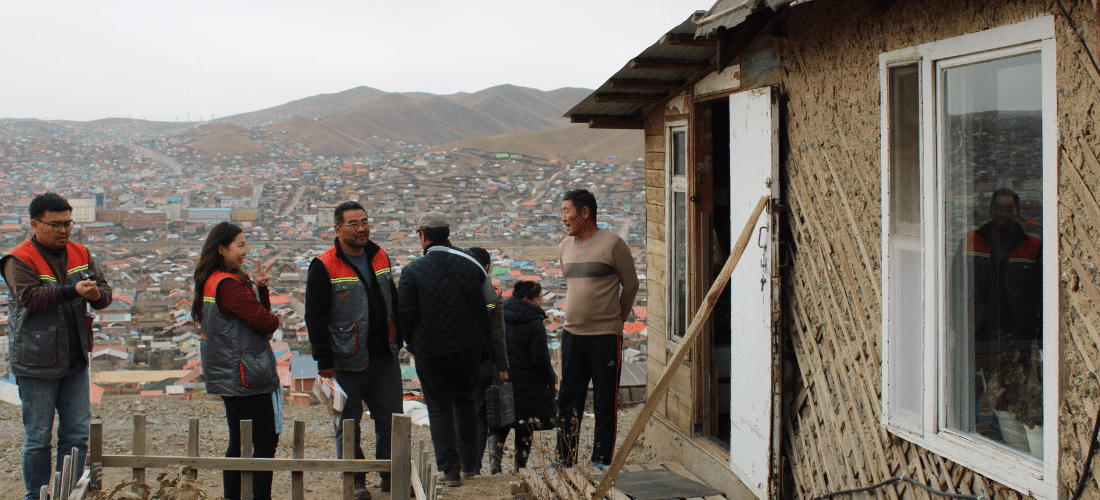 Ulaanbaatar is the most polluted city in winter. Since 2018, Geres and its partners with the support of the EU-funded Switch Asia ...
WOULD YOU LIKE TO TAKE ACTION
AND
SUPPORT WHAT WE DO?
Tell us who you are and find your means of action.
CITIZENS
Because Climate Solidarity is a challenge we face collectively, Geres gives you the possibility to make a difference.
TAKE ACTION AS A CITIZEN
PRIVATE SECTOR
As a business executive, an employee or a customer, you have the power to take action in your everyday life.
TAKE ACTION AS A COMPANY
LOCAL AND INSTITUTIONAL ACTORS
Support our actions in France and internationally and become an agent of change at our side.
TAKE ACTION AS AN INSTITUTION