Energy renovation of fragile housing in urban areas of Ulaanbaatar
Building on Geres' 20 years of experience in Asia's cold climate, the project "Switch off air pollution" (2018-2022), supported by the European Union, aims at offering affordable building retrofit solutions to households living in semi-informal areas of Ulaanbaatar in Mongolia by focusing on insulation, heating and cooking efficiency. The objective is to increase coal efficiency and thermal comfort for families while decreasing the dramatic air pollution in Ulaanbaatar.
Context and challenges
Mongolia is a vast country of open steppes, as big as Western Europe, where roam 90 million heads of livestock and only 3 million inhabitants. However, and this sound counterintuitive, population is largely urbanised and more than 50% of the population lives in Ulaanbaatar, with another 800.000 in provincial capitals.
The 8-month long heating season, temperatures hitting for several months -20 to -40°C and the absence of central heating systems for more than half of the urban population force them to rely on cheap and low-quality coal for satisfying household heating and cooking needs. This results in a dramatic situation of indoor and outdoor air pollution for all urban citizens. In terms of impact and specifically health impact, this might as well be the single largest challenge facing Mongolia currently.
Limiting fossil fuel consumption through improving the energy efficiency and decreasing heat loss of individual houses in the ger areas of the capital city is hence a key action to be undertaken to complement additional infrastructure and awareness raising projects aimed at reducing air pollution in the city, thus contributing to the reduction of respiratory infections, limiting the financial burden of excessive fuel consumption and eventually mitigating climate change effects.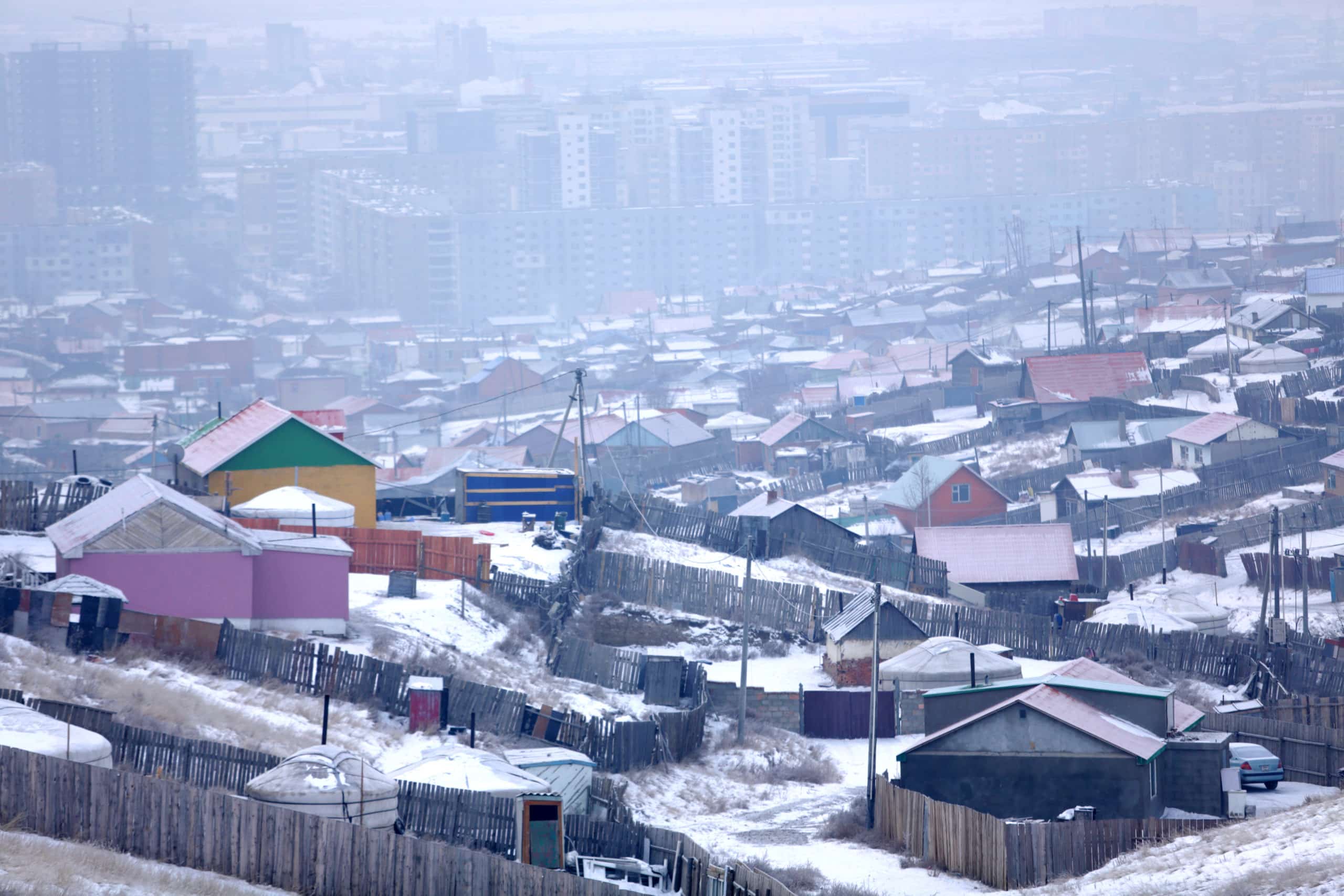 OBJECTIVES AND SOLUTIONS
"Switch off air pollution" project is a coordinated initiative lad by Geres with People in Need, the Mongolian National Construction Association and Mongolian University of Science and Technology's Building Energy Efficiency Centre, in close collaboration with Ulaanbaatar Municipality and GCF funded Xac Bank green loan initiative, aiming at equipping communities and private sector with the tools to curve air pollution in Mongolia.
With broader goal to improve housing energy efficiency through the design and implementation of context-based technical solutions for the construction sector, the resort to advisory services and financial intermediation, the project aims to contribute to the addition of more sustainable consumption and building patters and behaviours.
Following a comprehensive market approach for further replication and upscaling, the project intends to:
Increase awareness of communities and households to pollution challenges and the health and economic advantages of energy efficiency
Define appropriate and low-tech technical solutions for energy efficient dwellings, designed and shaped for dissemination to construction professionals and households
 Train and support construction MSMEs to sell and set-up energy efficient retrofit
Define, support and provide financial intermediation services to link clients (households or SMEs) to green credit schemes such as current GCF funded XAC Bank green retail loan products.
Further disseminate gender-informed Energy efficient solutions, perspectives and practices with the support of all stakeholders (loan officers, energy advisors, authorities) via targeted awareness raising activities.
Ultimately, it is expected that the project will pilot a system that could see systemic change, pending further replication, in:
The overall improvement of health through the promotion of  more sustainable energy consumption patterns and behaviors in the individual housing sector.
The lasting reduction in coal and overall energy consumption and emissions of CO2 and particulate matters in ger districts and beyond.
Partners
Financial partners
A grant from European Union, SWITCH Asia Sustainable Consumption & Production programme, co-funded by Foundation Abbé Pierre and CzechAid
Implementing partners
SOAP is implemented by Geres together with People in Need INGO and with its national partners, Mongolian National Construction Association and Mongolian University of Science and Technology's Building Energy Efficiency Centre
Switch Off Air Pollution video