15 September 2022
New opportunities for unemployed youth in Tajikistan
In october 2021, Geres in collaboration with local NGO's, launched a series of action to help tackle tajik youth unemployment. Part of them consisted in training youth to acquire energy efficient construction skills. Let's zoom in on the successful journey of Sherzod. This project is funded by the European Union.
High level of unemployment in Tajikistan is forcing thousands of citizens to look for temporary work opportunities, in the markets and construction sites. Only few can get some job and mostly those who master some craft.
Understand Tadjikistan's energetic stakes 
In order to contribute to the empowerment of youth, particularly in rural areas of the country, Geres launched a training cycle in collaboration with Little Earth and Umedbakhsh. Little Earth is an environmental NGO that has been working since 1997 to raise awareness about natural resource management and climate change, specifically targeting youth in Tajikistan.
More information about the project 
SHERZOD's journey and learning from the training
Sherzod Khudzhaev, a 34-year-old unemployed resident of the village of Somoniyon in the Rudaki district, looks for work almost daily to support himself and his family. He lives with his wife and two young children together with his parents, two brothers and a sister. Sherzod did not finish the school and left for Russia, despite objections from his parents. As he did not receive a school leaving certificate, he could not learn any profession sticking to basic jobs.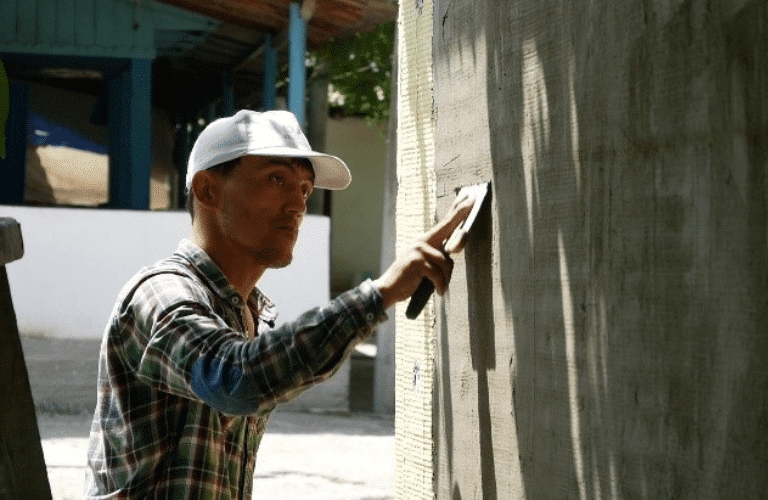 While looking for another job in his village, Sherzod came across the chairman of the village council, who told him about the short-term courses for young people, conducted by Geres. At the end of the five-day course, participants receive a certificate confirming their skills in the field of energy efficient construction. With doubts that one could learn something in short time, Sherzod nevertheless asked the chairman to put his name on the list.
On the first day of the training, Faridun Bazarov, a specialist in energy-efficient construction of the Geres, told the participants: "You will not only receive theoretical knowledge in energy efficiency construction, but also practical skills. We will teach you how to effectively use thermal insulation materials in order to save energy for heating of your home."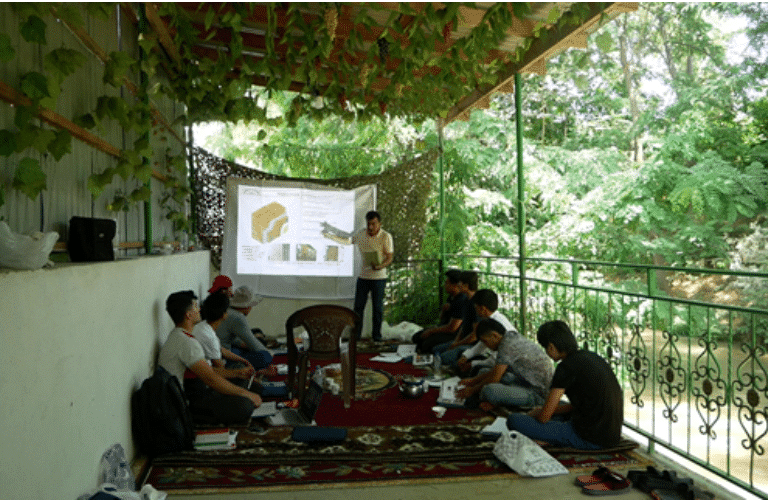 After graduation, Sherzod is convinced that he did the right thing by attending the course: "I am very glad that I got into the group of participants, because in a short time I learned how to build and renovate houses with the goal of low energy consumption. I also received a certificate, the first document in my life confirming my skills. I have got motivation to look for a job now. I am not more ashamed in front of my parents and relatives.", Sherzod shares with a joy in his eyes.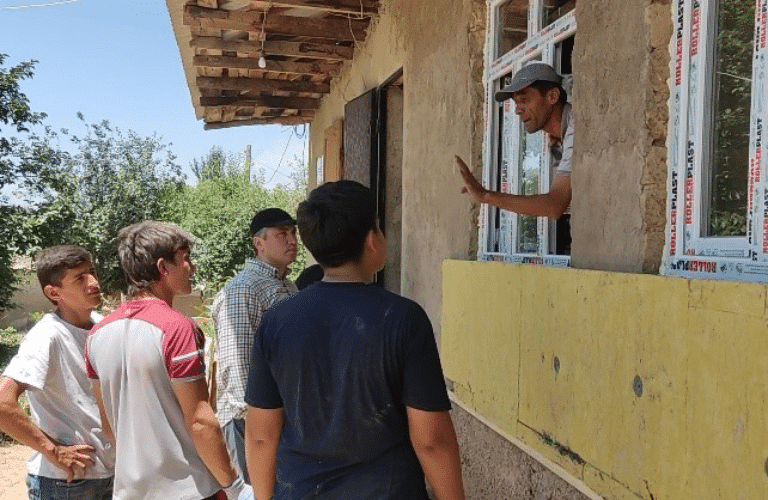 geres energy efficiency construction training reinforced 120 youth skills in four pilot districts
According to the United Nations Population Fund, the average age of the population of Tajikistan is 22.5 years. Every year more than 180,000 people enter the labor market in the country, most of them young people, disappointed with life. For their employment, it is necessary to create jobs in the market. One component of the project – Raising awareness among young people about climate change and the development of the climate-friendly construction sector in Tajikistan – funded by the European Union, is focused on the unemployed youth.
Geres selected four pilot districts and analyzed the labor market there with help from local authorities. In these areas, they identified unemployed youth without education and involved them in short-term training in the use of energy-efficient technologies in construction and renovation of houses. Many people volunteered to attend as news about these courses quickly spread around the villages.
Each course has 5 students for five full days. Geres provides participants with educational materials, visual aids and building materials. The practical part involves insulating of a winter room in the houses of low-income families from community. According to Shamsiddin Khudoyberdiev, another Geres expert:
"After the theoretical part, we demonstrate to the course participants how to apply insulating materials to exterior walls, floors and ceilings of the houses. They quickly learn this method of construction while house owners will spend less energy on heating in winter and cooling in summer. This will also have a positive effect for the environment."
Sherzod's parents were chosen as beneficiaries of the project too. Along with other participants, he has insulated the ceiling and floor, outer walls, sealed the door, installed new windows in the room where his parents spend winter.
In total 120 young people have been trained in energy efficiency courses in four pilot districts. Each course participant received a set of construction tools, which allow them to carry out such work in the future. After the course, the groups of trained youth insulated more than 100 houses of other low-income families gaining temporary work opportunities, under another Geres project financed by the Swiss Developement and Cooperation and Abbe Pierre Foundation.
Sherzod and others hope for better future, thanks to knowledge and practical skills they have gained. They hope to find jobs easier, as their skills and certificates distinguish them from simple laborers on the market.
This testimonial was inspired by an article written by a local journalist Muhayo Orifova. It was produced with the financial support of the European Union. Its contents are the sole responsibility of Geres and do not necessarily reflect the views of the European Union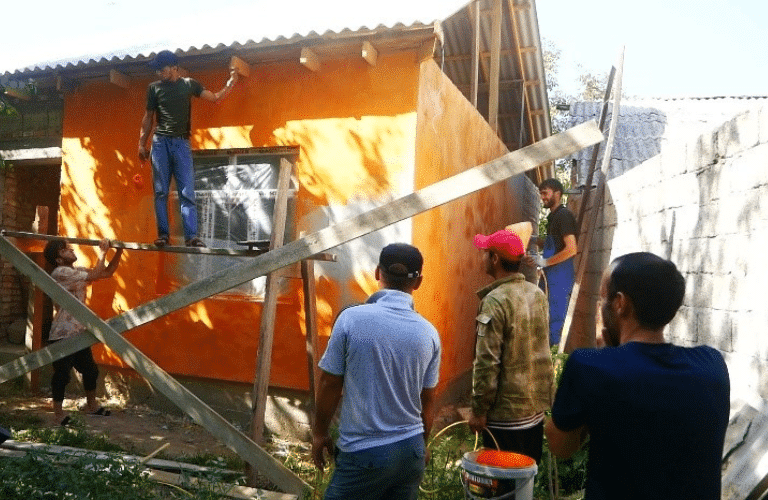 Geres news in Tadjikistan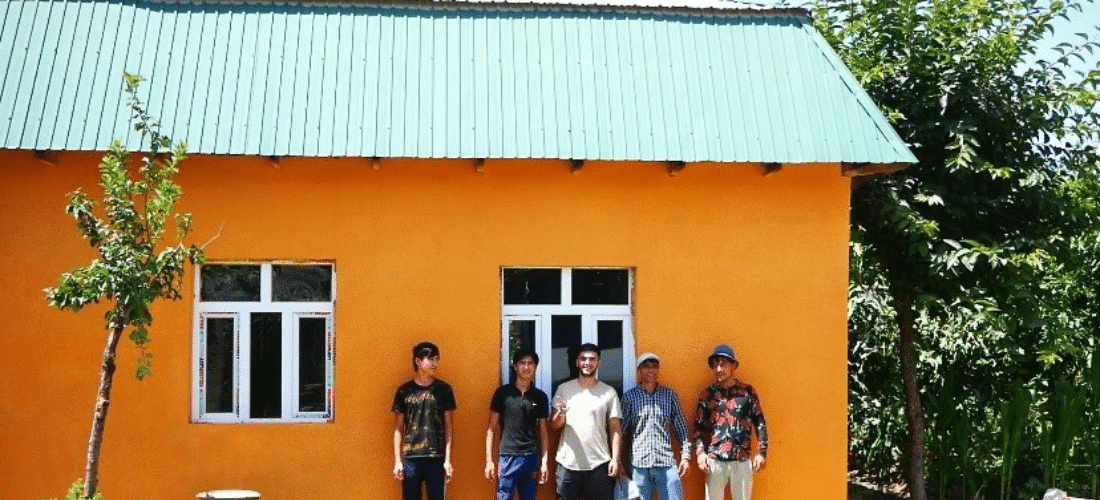 In october 2021, Geres in collaboration with local NGO's, launched a series of action to help tackle tajik youth unemployment. Part of ...
VOUS SOUHAITEZ AGIR EN FAVEUR DE LA SOLIDARITÉ
CLIMATIQUE ET SOUTENIR NOS ACTIONS ?
Dites-nous qui vous êtes et découvrez vos moyens d'action
CITOYEN·NE·S
Parce que la Solidarité climatique est l'affaire de toutes et tous, le Geres vous donne les clés pour passer à l'action.
ENTREPRISES
En tant que dirigeant·e d'entreprise, employé·e ou client·e responsable, vous avez le pouvoir d'agir au quotidien.
INSTITUTIONS & COLLECTIVITÉS
Soutenez nos actions en France et à l'international et devenez un acteur de la Solidarité climatique.
FONDATIONS
En vous engageant aux côtés du Geres, vous contribuez à la mise en œuvre d'actions innovantes et concrètes.