31 March 2022
In Myanmar, 9 women trained by Geres in the dissemination of sustainable energy kits participate in the great Pagoda Festival
After theorie, there is practice. On March 15th, 9 Burmese women trained by Geres in sustainable entrepreneurship in rural areas, sold about 40 energy solutions during the great Pagoda festival in Tharzi. A great opportunity that allows them to expand their network and strengthen their skills acquired within their distribution network.
Context. For several years now, Geres has been working with its local teams in Myanmar to improve the access of rural communities to clean and economical energy solutions. The project focuses on the "dry zone", the large central plain of the country, where many villages have been electrified over the past 10 years and many others are still off the grid.
The aim of the project is to encourage Burmese households to cook, heat and light themselves… and to carry out many other daily activities by using energy-saving equipment to reduce wood consumption and optimize the electricity supply, which is still partial and is currently marked by increasingly frequent power cuts.
The backbone: create an inclusive distribution network called Ah Lin Tan (Radiance in Burmese) to empower women (often assigned to domestic tasks) by strengthening their entrepreneurial spirit and by training them to disseminate these solutions in the villages in order to promote access to sustainable energy for rural households.
Also read : according to a recent Geres study, rural Myanmar is enthusiastically adopting electric cooking
The festival, a real opportunity of visibility for the diffusion of sustainable energy solutions of proximity
On March 15th, 9 women from the inclusive distribution network volunteered to run a sustainable energy solutions booth at the Pagoda Festival.
Located in the village of Ywar Gyi (between Tarzi and Wundwin), the festival is very close to the women entrepreneurs' villages. Understandably, it's a real opportunity for the Burmese women entrepreneurs trained by Geres.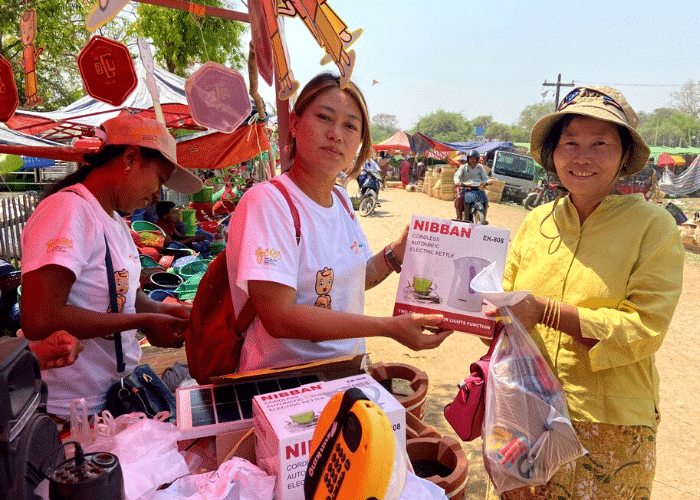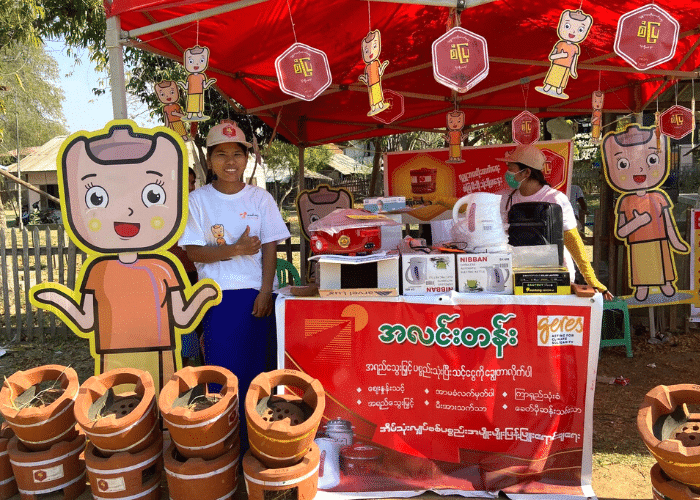 Regarded as an annual event, the festival brings together traders, craftsmen, bamboo merchants, clothes sellers, rope sellers, traditional snacks, street food vendors and, since this year, a stand dedicated to the sale of sustainable energy solutions.
Behind the stand, the women of the distribution network were able to promote the kits and products to the local population.
In total, 39 sustainable energy solutions were sold! A very good news. The inhabitants were particularly attracted by the electric kettles, frying pans, improved cook stoves and solar kits (lights) for the house. 
Running an event stall: an effective training to strengthen the business skills of women in Burma's inclusive distribution network
More broadly, the Pagoda Festival also allowed the 9 women of the distribution network to expand their sales network by meeting new clients from neighboring villages. Holding a stand was also a chance for each of them to do a real collective work and to increase their skills on this type of event. This event is an opportunity for advertisment of the selling Sustianable energy solutions for 3 townships, Meikhtila, Wunwind and TharZi , in this events the Women entrpreneurs can learn each other , and giving the peer to peer learning while selling time. In the future they can extend the selling areas on based this contact person who is coming the pagoda festival.
Also read : women's entrepreneurship, a source of energy in rural Myanmar
On the spot, the Myanmar Geres team was present to accompany the women, support them, reinforce their sales skills, give them advice and… simply have a good time.  the Women entrepreneurs can learn about the Customer segmentations  on each products on the event.
To be repeated!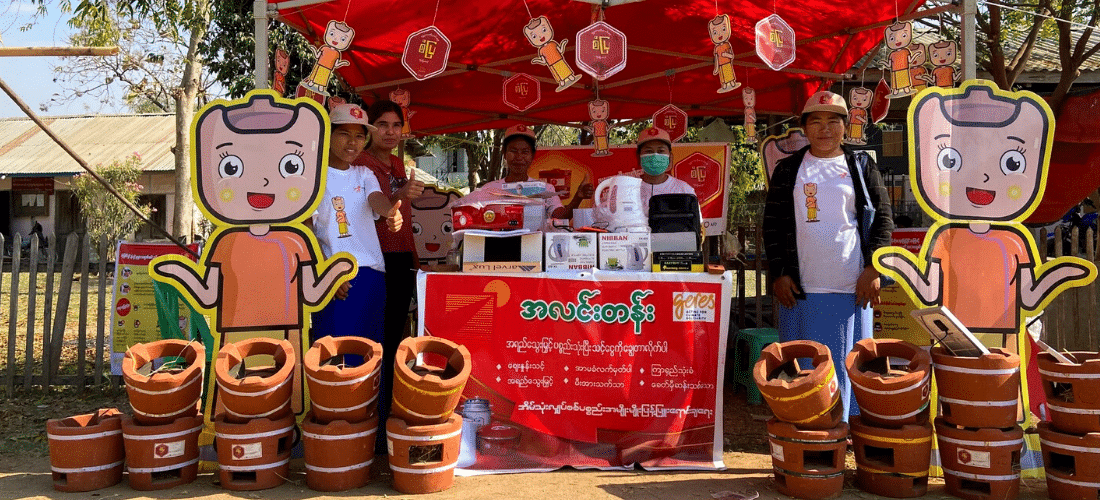 After theorie, there is practice. On March 15th, 9 Burmese women trained by Geres in sustainable entrepreneurship in rural areas, sold ...
GERES' PROJECTS IN MYANMAR
WOULD YOU LIKE TO TAKE ACTION
AND
SUPPORT WHAT WE DO?
Tell us who you are and find your means of action.
CITIZENS
Because Climate Solidarity is a challenge we face collectively, Geres gives you the possibility to make a difference.
TAKE ACTION AS A CITIZEN
PRIVATE SECTOR
As a business executive, an employee or a customer, you have the power to take action in your everyday life.
TAKE ACTION AS A COMPANY
LOCAL AND INSTITUTIONAL ACTORS
Support our actions in France and internationally and become an agent of change at our side.
TAKE ACTION AS AN INSTITUTION