30 September 2020
Women's entrepreneurship, a source of energy in rural Myanmar
Their names are Thida Hlaing, Myint Win, Su Pyae… Over the last few months, all of them have become distributors of sustainable energy solutions for remote Burmese villages. These women have learned the trade thanks to an innovative, inclusive network set up by Geres. Our objective is to help them boost their entrepreneurial spirit and independence while providing isolated households with access to sustainable energy.
In the Dry Zone of central Myanmar, where there is no connection to the electricity grid, women are significantly less active than men. What holds them back? The weight of the domestic responsibilities they very often bear.
Lack of access to high-quality energy considerably increases their vulnerability and keeps them at a distance from the Burmese socio-economic fabric.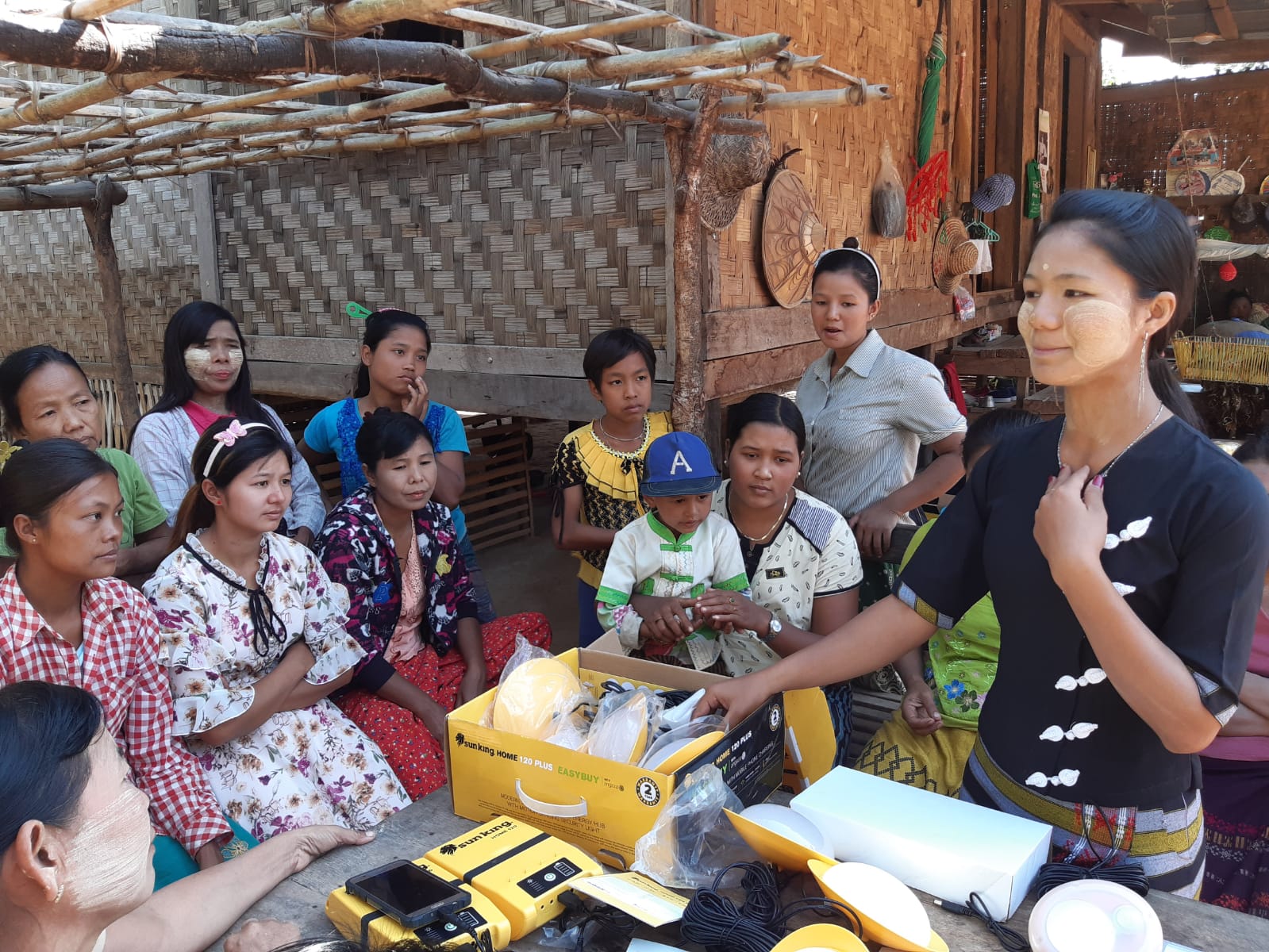 Female-headed households are more exposed to energy poverty in Myanmar
In the absence of an electricity supply, Burmese women have to spend 200 hours every year gathering wood for cooking and to heat their homes. Apart from contributing to deforestation and, indirectly, to climate change, use of this biomass as an energy source means difficult and very time-consuming work for these women. Sometimes coupled with respiratory diseases due to exposure to harmful smoke.
With a view to improving the women's living conditions, Geres and its partners have jointly launched a community social enterprise for their benefit.
Begun in 2018 and implemented until 2020, this rural sustainable energy access project aims not only to increase Burmese women's autonomy by strengthening entrepreneurship but also to facilitate access to reliable, sustainable, affordable energy services for all.
Mynt MyntWin, a 38-year-old woman entrepreneur, recruited to the distribution network in June 2019, has this to say:

"I learned via Geres that men and women entrepreneurs were being recruited to sell energy products in the villages. Geres told us about the training on offer to improve our business activity (…). Before, I used to sell clothing, tables and cooking utensils, so I reckoned I could surely also sell these energy products!"
Training provided by the distribution network, a source of greater autonomy for women
Through this inclusive distribution network, women receive three days of training on how to sell solar kits (primarily lamps and domestic systems) and improved stoves. "Last mile" sustainable energy solutions, the missing links needed to reach these off-grid villages.
Speaking skills, strategy and marketing courses, negotiating techniques and the like. These participatory training workshops are designed to consolidate the women's commercial and technical skills so that they can manage their businesses independently on their own.
Su Pyae Naing, a 19-year-old woman entrepreneur, recruited to the network in 2019:
 "The training helped me to improve my sales and speaking skills. I'm not afraid to talk to customers any more. I've also learned new methods to increase sales volume and earn more money. Now, I can expand my income-generating activities".
The same goes for the solar kits which, for their part, replace candle lighting and enable households to recharge their electronic devices properly with no risk of fire.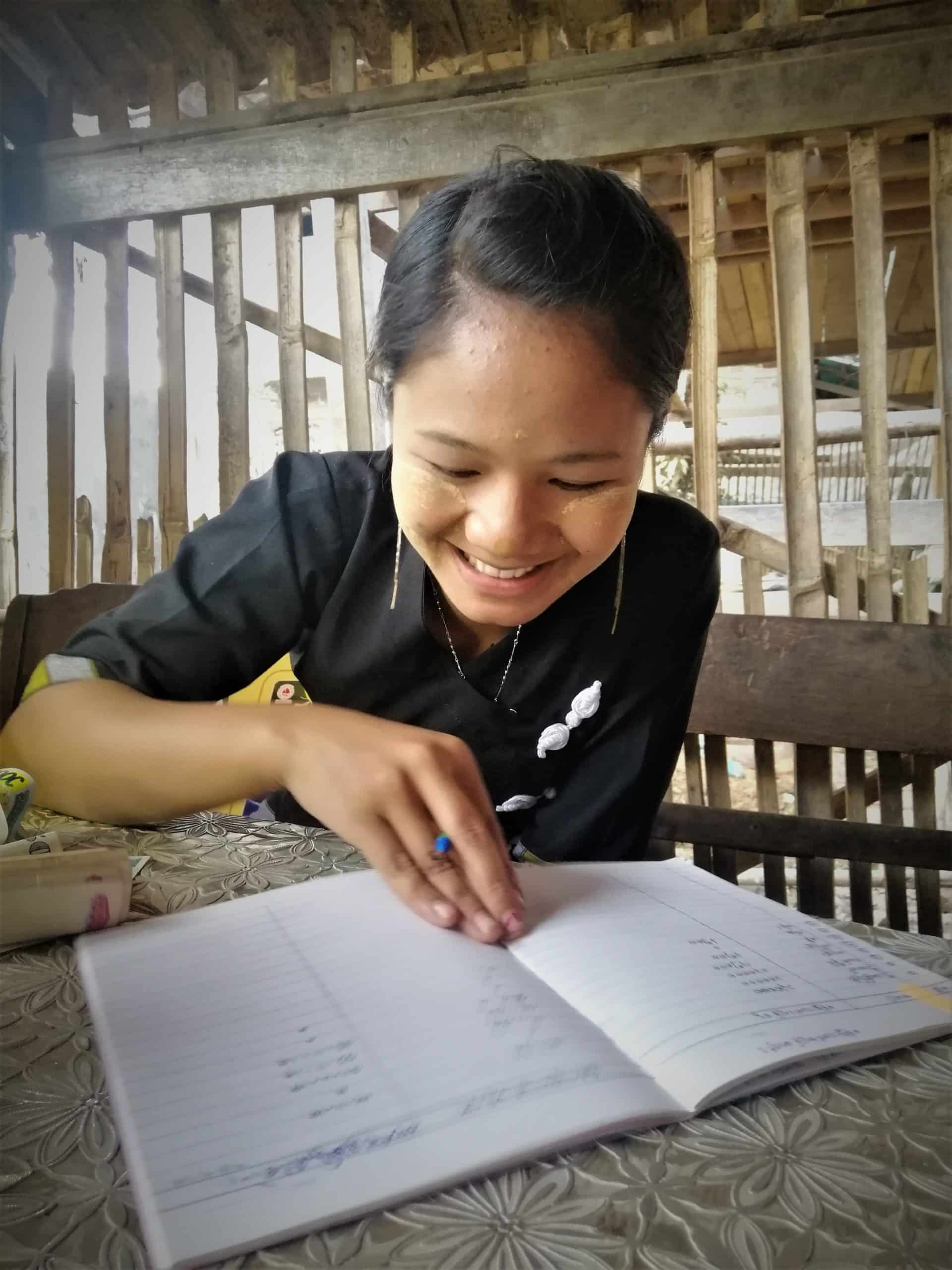 Despite the health crisis, the enthusiasm of women entrepreneurs is growing and the results are extremely positive
Presently, despite the pandemic, 16 women producers of sustainable energy solutions (in place of the 10 originally planned) have now joined the distribution network. And the women entrepreneurs have already succeeded in distributing 900 sustainable energy solutions in 2020.
By 2021, 10,000 households in isolated villages will have access to sustainable energy solutions and indirectly take part in protecting the environment and combating climate change.
Women will therefore play an essential role in meeting this economic and ecological challenge faced by Myanmar, while gaining in independence and quality of life. Geres is proud to be helping them achieve this ambition.
Huge thanks go to all our partners for their technical and financial support: Thazi Network, Pollinate Energy, AFD, European Union,  RAJA-Danièle Marcovici Foundation  and Synergie Solaire.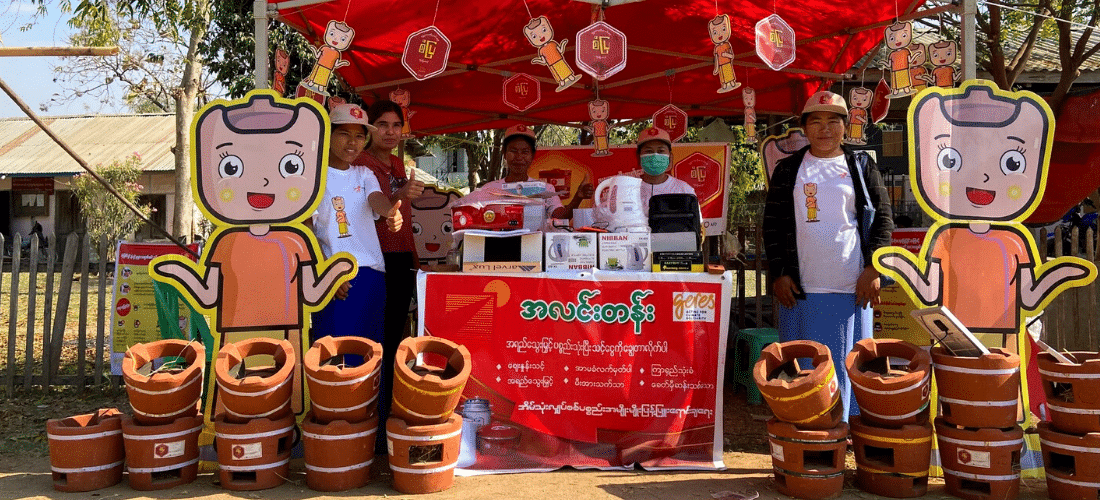 After theorie, there is practice. On March 15th, 9 Burmese women trained by Geres in sustainable entrepreneurship in rural areas, sold ...
WOULD YOU LIKE TO TAKE ACTION
AND
SUPPORT WHAT WE DO?
Tell us who you are and find your means of action.
CITIZENS
Because Climate Solidarity is a challenge we face collectively, Geres gives you the possibility to make a difference.
TAKE ACTION AS A CITIZEN
PRIVATE SECTOR
As a business executive, an employee or a customer, you have the power to take action in your everyday life.
TAKE ACTION AS A COMPANY
LOCAL AND INSTITUTIONAL ACTORS
Support our actions in France and internationally and become an agent of change at our side.
TAKE ACTION AS AN INSTITUTION