Energy climate information services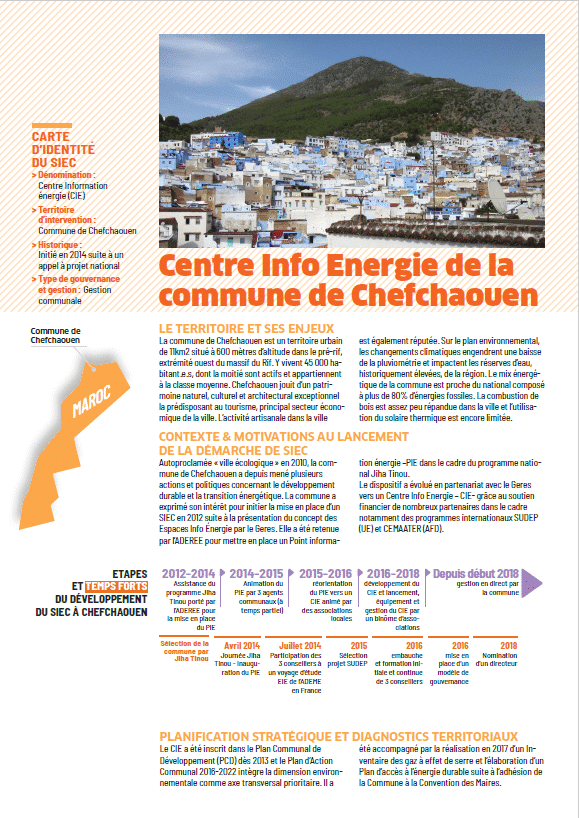 Based on its experience in the development and technical animation of Energy Information Offices in France and support to the creation of the first Energy Information Center in Morocco and Tajikistan, Geres has initiated in 2017 an international working group on Climate Energy Information Services (SIEC) with Moroccan, French and Tunisian structures.
Under the guidance of the Provence-Alpes-Côte d'Azur region and the Tangier-Tetouan-Al Hoceima region, the following actors have shared and capitalized on their experiences and tools during two years: the commune of Chefchaouen, the commune of Oujda, the province of Tata, the OPEMH and the network of solar professional Résovert SMD on the Moroccan side, the association Sousse Propre and the Agence Nationale de Maîtrise de l'Energie on the Tunisian side and ALEC Métropole Marseillaise and Geres on the French side.
This work has resulted in a leaflet -in French and Arabic- and case studies, intended to be appropriated by territories wishing to develop their own Climate Energy Information Services in their energy transition.
Information
Author: Geres

Year: 2020
Languages: French and Arabic