Catalog of efficient technolgies in Tajikistan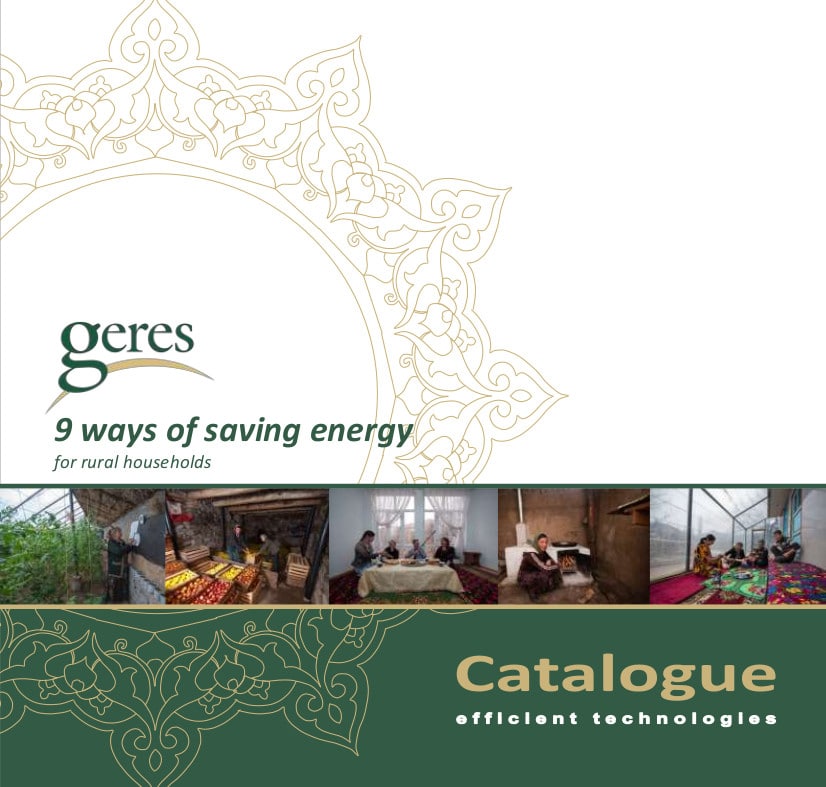 9 ways of saving energy for rural households…
Geres has been in Tajikistan since 2011 with the aim to develop a sustainable process that will improve the living conditions and economic opportunities of around 1,000 vulnerable rural households.
To do so, Geres has developed and improved various existing household and agricultural energy efficient and energy saving technologies, such as primarily passive solar and thermal insulation techniques. Reducing the need for fuel reduces the pressure on biomass resources. In addition, the bioclimatic techniques are used to reinforce the means of production, preservation and distribution of agricultural products.
A professional catalogue of all technologies promoted by Geres Tajikistan has been designed and published. The catalogue was printed in Tajik, Uzbek and English.
Geres Tajikistan also published instruction manuals for every technology promoted to guide artisans and the local population in constructing energy efficient and energy saving technologies.
Information
Edition: Geres
Authors: A. Mahmadaminov, B. T. Owens, C. Oriol, M. Pochoev, N. Khusenova
Language: English
Year: 2013
Pages: 44
DOWNLOAD THE INSTRUCTION MANUALS
Manual for construction and operation of modified cooking stoves
Manual for construction and operation of bioclimatic cellars
Manual for house insulation
Manual for construction and operation of passive solar architecture
Manual for construction and operation of Nepali stoves
Manual for construction and operation of solar poultry farms
Manual for construction and operation of Tezpaz stoves
Manual for construction and operation of Vulkan stoves
Manual for construction and operation of solar greenhouses